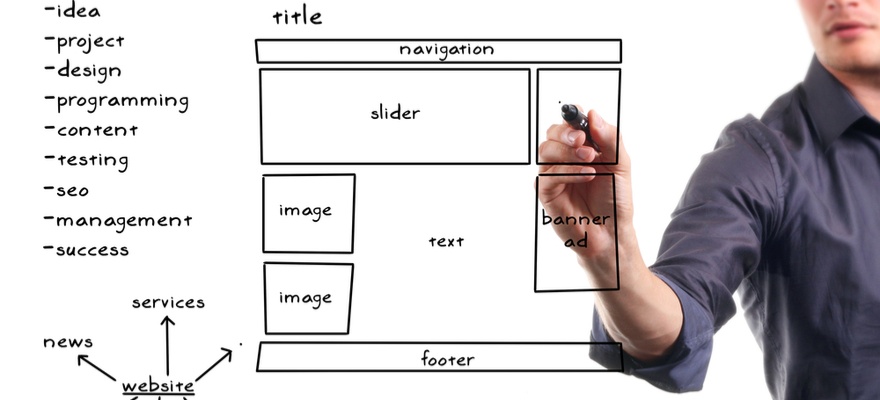 Is your website B2B lead generation faltering? You're not alone. According to the B2B Lead Generation Marketing Trends Report, 61% of B2B marketers cite the generation of high quality leads as their biggest challenge. However, these quick B2B website design tips can significantly boost lead generation without the need for a total website redesign.
1. Test existing components
Before you begin pouring your precious time and resources into building new website features, examine your existing components – you'll be surprised by what a few nips and tucks can achieve!
Call to Action
A Call to Action (CTA) links your prospects to additional content on landing pages and the option to convert into leads. Get these wrong and lead generation grinds to a halt. On average, you should be aiming for a 2% to 4% click through rate – although these figures vary depending on industry and placement. If your existing CTAs are well below this benchmark, try these tweaks:
Colour: The colour palette used for a CTA should be in contrast to the rest of the webpage to ensure that it stands out.
Copy: If your copy is too long, consider shortening it. Prospects have short attention spans and so will be more receptive to a CTA that is simple, straight to the point and presents immediate value.
Make it action-orientated: A CTA needs to pass the 'blinker test' i.e. prospects are able to recognise its value in five seconds or less. This can be achieved by using action phrases such as 'claim now' or 'start your free trial', indicating that there is an action to be performed.
Landing pages
A landing page is a fundamental part of B2B website design, as it is your chance to convince prospects that your content offer is worth the exchange of confidential information such as their name and email address. If you are experiencing high click through rates on your CTA but low conversions, chances are your landing page is missing the mark.
Matching value to value: A landing page in many ways works as a business transaction. A prospect will give you their information in exchange for valuable content such as a guide or e-book. To optimise your landing page for lead generation, ensure that the value of your content offer matches the information you require from prospects. When analysing your landing pages, if you discover that few prospects are claiming your content offer, consider removing some fields from your form, or using a more valuable content offer.
Remove navigation and social log-ins: Your prospects are incredibly busy and so can be easily distracted. Keep the focus solely on your form by removing navigation menus and social log-ins, and avoid prospects navigating away from the place you want them to be.
Clearly present the value of your content offer: When your copy is long and convoluted, prospects won't bother reading it. Your landing page copy needs to successfully sell the worth of your content offer in a succinct and value-oriented manner. Achieve this by keeping copy short and bullet-pointed, highlighting the key features of your content offer and the problems it helps to solve.
2. Implement A/B testing
Something as seemingly small as a font change or re-ordering copy can have a big impact on a CTA click-through rate. A/B testing is a handy way of testing variations of a CTA without taking up too much of your time. First, set up two variations of a CTA in a tool such as HubSpot. The CMS will then serve each variation to half of your visitors. Over time you will be able to identify which variation is most successful and gains the most clicks. From there, you can turn the less successful variation off, and will be better informed on the CTA features that resonate with your audience.
3. Implement personalisation
When using a CMS such as HubSpot, you can make use of smart fields and personalisation. This works by identifying returning visitors and presenting them with different information and targeted content. For example, if a returning customer claims an additional content offer, form fields that they have previously filled in will be blanked out. This essentially saves your prospects time, making it more likely that they will fill in the rest of the form.
Dynamic content and CTAs can also be used to help connect to prospects on a personal level. HubSpot revealed that its personalised CTA, using the prospects name in the copy, converted 42% more visitors than a standard CTA. Implementing dynamic content in this manner is relatively straightforward. The smart CTA will identify a returning customer and source their name from forms they have filled in during previous visits.
4. Make contact information easier to access on mobile devices
With mobile visitors now accounting for 29% of a B2B site's total traffic, it is essential that your B2B website design is catered to their specific needs. This is especially important considering that mobile usage is set to eclipse desktop in the next decade. As HubSpot argues, mobile users are much more action orientated, due to time constraints and other commitments. Therefore, a sales cycle is in many instances shorter, with a mobile user more likely to make direct contact earlier on in the buyer's journey. It's therefore essential that contact information is clearly displayed and easily accessible. Consider making your phone number clickable, enabling prospects to call you directly from your website with the click of a button.
5. Use white space
As humans, we are much more receptive to visuals than copy. Cluttered B2B website design, with masses of copy and little white space, can be daunting to a potential prospect and can encourage them to abandon your site altogether. Effective use of white space can bring focus to the important features of your website, such as CTAs.
A prime example of excellent white space usage is Google. When using the world-leading search engine, focus is reserved solely to the search bar. On your own website, consider using white space to break up large chunks of copy and distracting website elements.
Feeling confident in being able to design a B2B website design for lead generation? Click on the banner to download your free copy of our handy 'B2B lead generation website checklist'.
This blog was originally published in December 2015 and has been updated where possible for accuracy and comprehensiveness in June 2017.