JackSpot: Sneak peek at INBOUND 2018
Get a sneak peek of HubSpot's product announcements that will be unveiled at INBOUND 2018 and how your business can take advantage of them. Watch now!
Jack Williams
Published: 22 Aug 2018
6 minutes read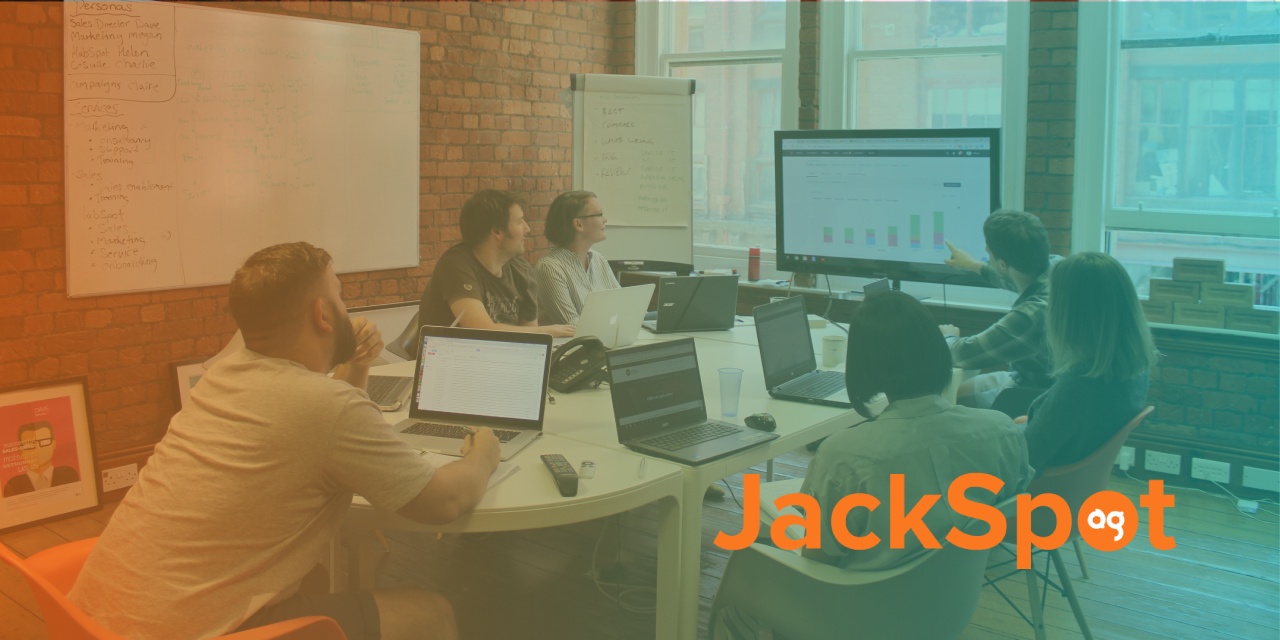 With just over a week until INBOUND 2018, our team are gearing up for what will be the most significant event of the year for any 'HubSpotter' or Inbound Marketer.
INBOUND is HubSpot's annual conference where thousands of business professionals come together in Boston to immerse themselves in the latest digital marketing knowledge and industry trends. It's likely to be a jam-packed few days of inspiring keynotes, tons of networking opportunities and some exciting new product releases.
In week's JackSpot I'll be sharing a sneak peak of HubSpot's product announcements that will be unveiled at the event and how your business can take advantage of them. Watch the video below to find out more.
HubSpot Enterprise-Level Products
First up, HubSpot is announcing updates to better support the needs of large, sophisticated teams, such as:
A major upgrade to HubSpot's Marketing Hub Enterprise will include improved analytics and custom bot building.
The new Sales Hub Enterprise will include features like Sales Playbooks, which will help users build a library of best practices and resources for their sales team. It will also include calling transcription, eSignature, and quota management tools.
The new Service Hub Enterprise will include tools to help teams track against SLAs and other metrics.
Across all three Enterprise Hubs, additional capabilities will include advanced team management; a native Slack integration; machine learning to power features like predictive lead scoring; and HubSpot's recently-released Conversations tool, which is available to all customers and unites email, chat, and social in one inbox.
Service Hub Starter
To help businesses improve customer service, HubSpot will be introducing a new starter edition of Service Hub, which will offer Tickets and other tools to increase your team's productivity, connect with customers and help them grow. Just some of the ways you'll be able to do this include:
Meeting customer expectations by building a help desk in HubSpot, allowing users to turn chats, emails, and form submissions into tickets that can be managed and monitored.
Responding to customers faster by building a library of email templates, short text response snippets, and documents with existing answers and knowledge.
Connecting with customers in real time through live chat and book meetings via shared calendar links. Users will also be able to make calls from HubSpot that are optionally recorded and logged.
HubSpot video
This one we're really excited about - HubSpot video! The new features include video hosting, in-video calls-to-action and forms and much more, which will be included in the Professional and Enterprise-level products. Businesses can now leverage video in a more personal, authentic and positive way by:
Easily hosting and managing video files inside of HubSpot

Building stronger relationships with prospects by creating, sharing, and tracking personalised videos in the tool

Helping customers faster with personalised help videos created and shared directly from Service Hub
HubSpot CMS
The HubSpot CMS will soon be available as a standalone product. We're already big fans of HubSpot CMS due to its flexible, user-friendly interface. Combined with HubSpot's CRM, businesses can customise the entire customer experience, align marketing and sales and deliver powerful reporting.
Pricing
HubSpot are making some changes to their pricing as follows: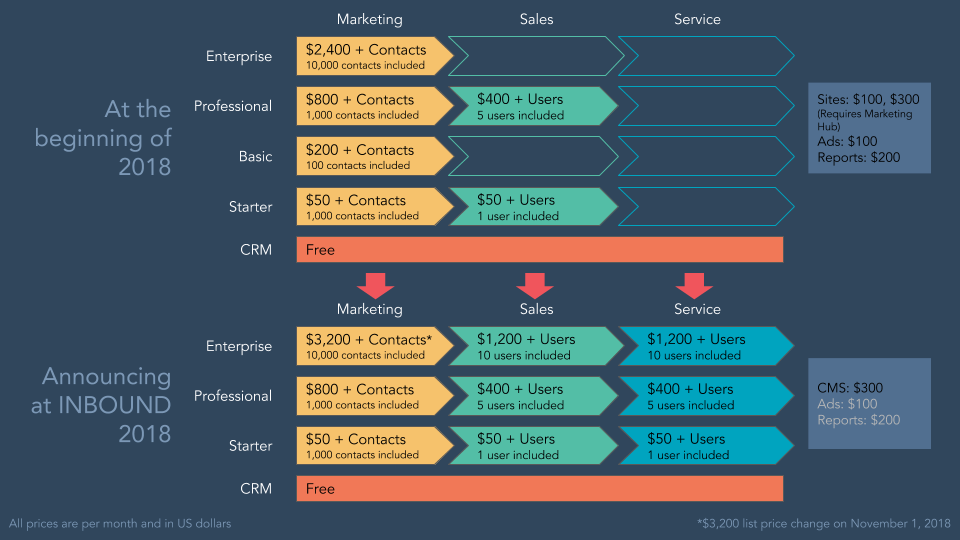 With the introduction of Service Hub Starter, Enterprise Sales Hub, and Enterprise Service Hub, HubSpot will also be announcing Growth Suite software bundles for the Starter, Professional, and Enterprise editions. These bundles give companies of any size access to the HubSpot tools designed to meet their needs at their unique stage of growth. Customers who purchase any of the Growth Suite bundles will receive a 25% discount off of the standalone prices for each Hub.
In addition to these pricing updates, HubSpot announced that they'll be removing Marketing HubSpot Basic from their pricing page due to the advanced functionality of the Marketing Hub Starter product.
When combined with the free CRM and the new standalone CMS product, the Marketing Hub Starter product encapsulates the most wide-spread use-cases of Marketing Hub Basic and creates a better experience for customers at a fraction of the price.
However, don't worry if you're an existing customer on Marketing Hub Basic customer subscriptions - your pricing will not change, so no action is needed.
So that summarises the key announcements we've heard so far, but there's bound to be lots of more exciting updates and insights in the next couple of weeks, so we'll be sure to keep you updated.
Let me know if you're attending INBOUND 2018 - we'd love to see you there! And as always, if you need any advice on HubSpot then please feel free to get in touch or find out more about our Inbound and HubSpot training sessions below.