What is Social Selling? And How to get Started
Social selling is summarised as the process of researching, connecting and interacting with sales prospects and customers across social media channels
Jack Williams
Published: 16 May 2017
5 minutes read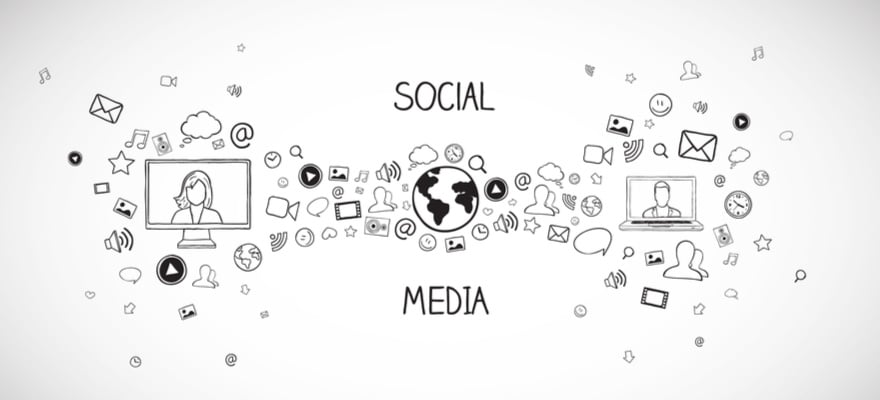 According to findings detailed in the State of Inbound Sales report, social selling may well be more hype than reality at present. However, as with any initially 'hyped' disruption in the way we do business that fast becomes the standard practice of tomorrow, sales leaders would be best to position themselves ahead of the curve, rather than chasing it in the months, or years, to come. In order to do this, a systematic approach to social selling needs to be incorporated into the sales process.
What is social selling?
Social selling is summarised as the process of researching, connecting and interacting with sales prospects and customers across social media channels - but more notably LinkedIn. Through 'linking', commenting and sharing prospective customer, and actual customer, posts, salespeople build rapport with buyers and boost their credibility through sharing information that their prospects are actually interested in.
Instead of the traditional hard closing tactics that are so common across the board, social selling is more akin to lead nurturing. Therefore, social selling isn't necessarily a good fit for those seeking quick wins. A lot of time is required of salespeople to make the most of the social channels available to them, and even then, there is no guarantee that their efforts will pay off.
The power of social selling
This blog may not be selling you the value of social selling so far, but data shows that those who play the long game definitely reap the rewards. Research found that 72.6% of salespeople who utilised social selling at some point of their sales process outperformed their colleagues (Social Centered Selling and A Sales Guy). And, more importantly, social savvy salespeople beat their quotas 23% more often.
An Aberdeen study confirms these findings, as in 2010, a survey revealed that 64% of sales teams using social selling hit quota, when compared to 49% of teams that hadn't introduced social media into their sales process. Companies using social selling also found that they had improved customer renewal rates and more accurate sales forecasts.
It's all well and good preaching the proven effectiveness of social sales, but what does it actually look like in terms of results for a company? Marketing software company Eloqua managed to decrease their average sales cycle time by 20 days after they adopted social sales tactics and LinkedIn's Sales Navigator. They also managed to boost the rate in which leads converted to opportunities by 25%. Impressive stuff. Social selling also plays its part in generating referrals through LinkedIn networks, with referrals having a much higher close rate than average sales - roughly 50%, according to NoMoreColdCalling.com.

How to get started with social selling
The 'Four Pillars of Social Selling' detail the components that are most critical in building an effective social sales strategy.
1. Establish your professional brand
Why is it important to establish your professional brand?

Reps that exceed quote get 35% more pageviews than those that don't (LinkedIn Research)

81% of buyers are more likely to engage with a strong professional brand (LinkedIn Research)

92% of B2B buyers engage with sales professionals if they are known industry thought leaders (LinkedIn Research)

Complete your profile with the customer in mind

Aim for 100% profile completeness with a profile picture, headline, summary and experience. Make sure to emphasise when you provided value to a client.

Add rich content highlighting you as a thought leader.

Include examples of your work on your profile in rich multimedia to share with prospects and customers in an interactive way. You could use slideshare, video or articles to do this.

Increase visibility by posting and interacting with content.

You should make it your goal to share high-quality information that is helpful and contextually appropriate to your buyer personas.
2. Find the right people
Why is it important to find the right people?

Sales reps who exceed quota engage on LinkedIn with their prospects 39% more than other sales professionals. (LinkedIn Research)

Reps who exceed quota save 45% more leads than those who don't (LinkedIn Research)

Sales reps who viewed the profiles of at least 10 people at each of their accounts were 69% more likely to exceed quota (LinkedIn Research)

Use LinkedIn's powerful search tools to zero in on decision makers

Use unlimited profile search - up to 3rd degree - and advanced filters that reflect the way you naturally prospect on Sales Navigator. Use boolean search terms (AND, OR, NOT) in keyword search on Lead builder to power up your results.

Leverage warm introductions to expand your network

Expand your reach with 2nd degree connections, which can transform cold outreach into a warm introduction. You can filter your search to only return 2nd degree connections in order to identify introductions.

Research potential prospects

Look for commonalities to establish a relationship, join LinkedIn groups and save leads that you want to receive updates for. By saving a lead in Sales Navigator, you can engage with them at the right time, when they're active.

Take advantage of who's viewed your profile

Your activity drives views of your profile. Review often and engage with relevant viewers.
3. Engage with insights
Why is it important to engage with insights?

Nearly 64% of B2B buyers report that they appreciate hearing from a salesperson who provides knowledge and insight about their business. (Social Sales Link)

You are 70% more likely to get an appointment or an unexpected sale if you are a member in LinkedIn Groups (Vorsight)

Reps that exceed quota get 74% more engagement on their posts than those that don't exceed quota. (The Profile)

Share relevant resources to strengthen personal connections

Post relevant content that can help you become a trusted source of insights and engage with insights from others. You could even go as far as identifying content that is relevant to a particular prospect, and tag them in it to show you care about their success

Stay in the know with timely content

Leverage industry data and news on LinkedIn to stay up to date. Save leads using sales navigator to get updates relating to them - whether they have been mentioned in the news, or someone else at their company has, for example.

Use relevant information when reaching out

Always customise messages using relevant information you have learned about the person on LinkedIn. Use response rates to gauge the success of connection requests or InMails in order to refine your messaging.
4. Build relationships
Why is it important to build relationships?

73% of B2B buyers prefer sales professionals who have been referred by someone they know. (Forrester)

87% of B2B buyers said they would have a favourable impression of a salesperson who was introduced to them through someone in their professional network (LinkedIn Research)

Buying decisions now typically include 5.4 decision makers. (Gartner)

Connect with contacts

A larger network gives you greater leverage in finding new prospects and getting in the door with clients

Focus on decision makers

Focus on building relationships with senior-level people at your prospects and customers. It's always good to connect with multiple decision makers within the same company.

Connect internally & leverage TeamLink

Connect internally so your colleagues will be able to provide warm introductions. Senior leaders are more likely to have decision maker connections for you to leverage.

Nurture relationships over time to keep your services top of mind

After connecting, develop the relationship just as you would before LinkedIn existed by reaching out periodically at appropriate times and adding value by providing relevant information and solutions to your prospect or client's businesses problems. You could even share your prospects posts and articles to help them out.