[Video] A day in the life - CRO Specialist - Will Marsland
Spencer sits down with our CRO specialist Will, who discusses a day in the life of their role as a CRO expert and how they achieve results for our clients.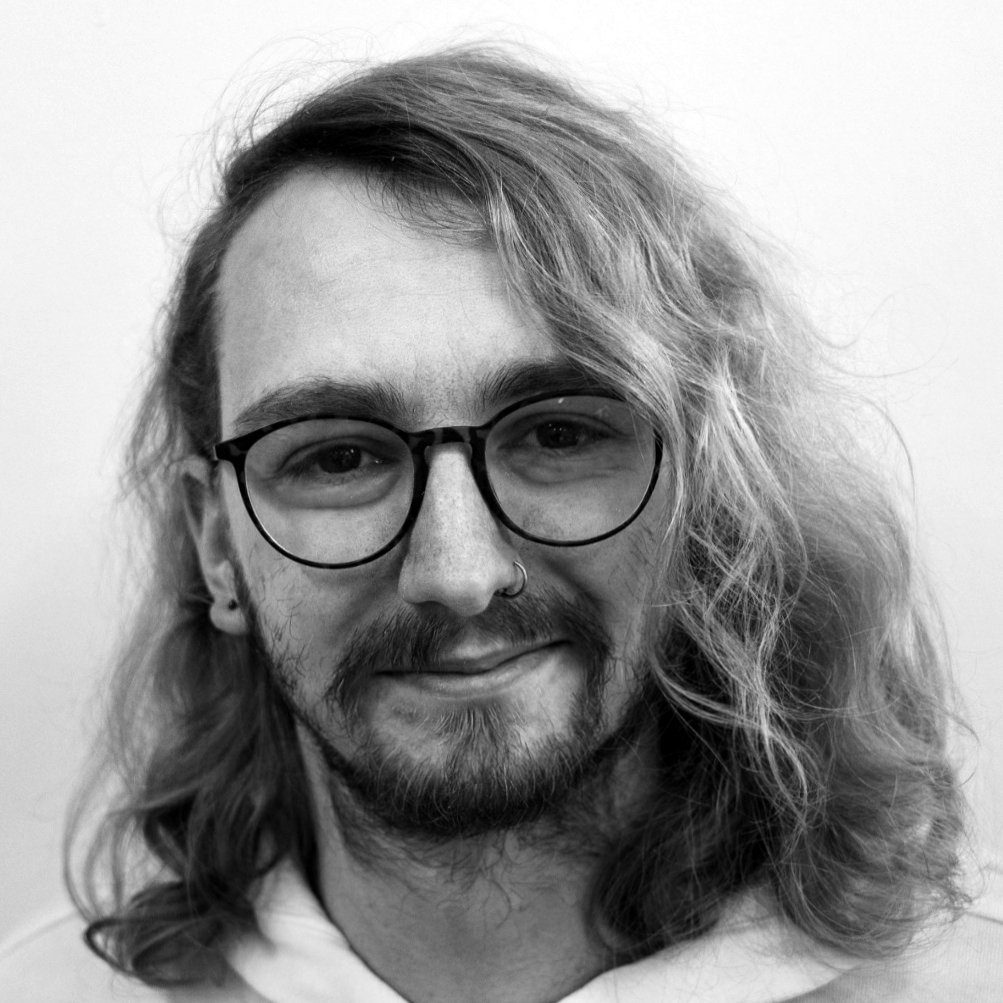 Will Marsland
Published: 16 Feb 2021
5 minutes read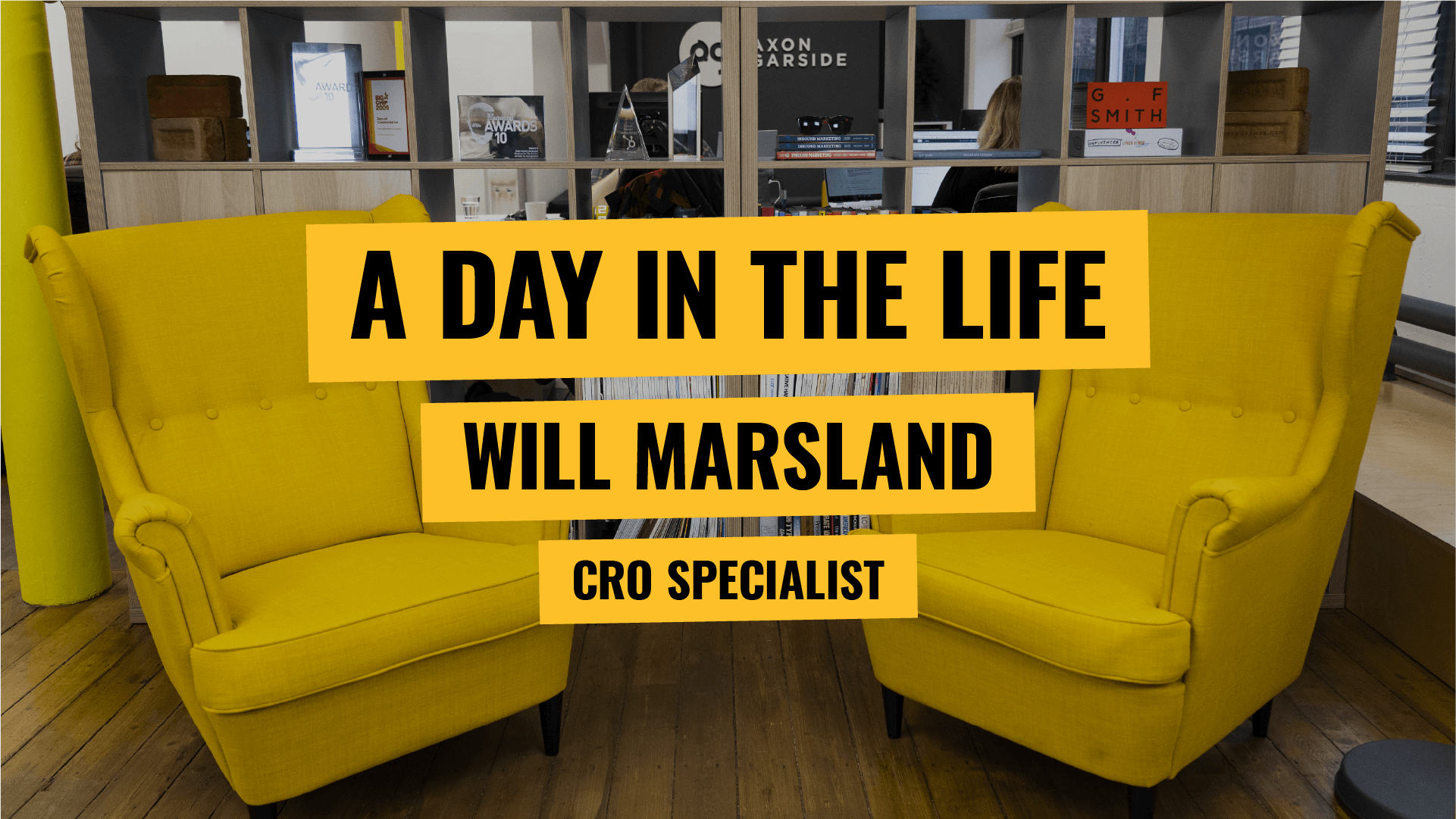 In this video, Spencer sits down with our resident conversion rate optimisation specialist, Will Marsland.

Will talks about their day-to-day role as a CRO specialist, as well as common challenges our clients encounter, and provides top B2B inbound marketing tips.
If you'd like to know more about the roles within an inbound marketing agency, you can find it in our blog - Your Guide to Choosing an Inbound Marketing Agency.

If you'd like to read the transcript of the video, please find it below the line.
---
Will:
I'm Will, I'm the CRO specialist here at Axon Garside - that's Conversion Rate Optimisation.
Essentially, my main job involves looking at how our clients' websites convert, and what can be done to improve that conversion in terms of the number of leads that they get - both marketing qualified (MQLs) and sales qualified leads (SQLs).

Spencer:
What does a typical day look like for a CRO expert?
Will:
Obviously, there's quite a lot of variation in terms of what I do day-to-day. It typically depends on what clients I'm working on, but generally I'll come in and the first thing I'll do is I'll have a look at what I've got on for the day. Usually, I prepare the night before in terms of key tasks I've got lined up, my priorities, and what I want to achieve.
So I'll review what I'm going to be doing, what clients I'm going to be working on, and what the main goals are that I want to be hitting with what I'm doing. We have a team-wide scrum every morning where we talk about our goals, we familiarise ourselves with what everybody's going to be doing for the day and how that aligns with each other. This helps with visibility, and helps us to all understand what's going on and how our work all fits together.
After that I typically get started on the main bulk of work. I'll look at how how on target we are for meeting our client's goals, whether the work is delivering or if we need to be readjusting what we're doing. Generally, if I've set up any conversion experiments or tests, I will check in on how they're coming along, whether there's any data or if we need to change direction at all.
After that, bulk of my work is usually around analysing our clients' sites, what they're looking to achieve, and what we can be doing to make their pages produce more and better quality leads, usually looking at CTAs across the site, seeing how these can be improved and how we can link them together better. I'm also typically constructing marketing emails, setting up automation and workflows and making copy changes - really anything that can help improve performance in conjunction with the Search Engine Optimisation that's being carried out by the members of the team.

Spencer:
You mentioned experiments, what does that mean specifically in this context?

Will:
I think, as the basis of CRO, if it was easy and always more-or-less the same, then the job would be easy - you'd just be able to do the same thing for every client. But unfortunately, you can't do that. Every client is different. Every client and every webpage has different requirements in terms of what it needs to succeed. The same techniques for CRO won't work across every page as much as I want them to, so you need to be trying new things all the time. That means looking at things that have been been successful on other pages or sites, and trying them out where relevant. It also means looking at things that have not been as successful, and maybe testing against new criteria that you think might help it improve and increase leads.

Spencer:
So it sounds like it's a very tech heavy job. What sort of technology you use on a daily basis?
Will:
I spend most of my time in HubSpot, which is our CRM - all of our content is based in there.
I spend most of my time looking through the data in HubSpot - it allows me to see how pages are performing, as well as actually make changes to the pages themselves. But I'll typically use it alongside tools like Hotjar, which is a tool I use for monitoring web performance and seeing how people are actually interacting with the pages that we set up. That's great because it allows me to get valuable insight into a lot more of the human aspect of data in terms of how things work rather than just than just numbers.
When it comes to producing aspects like CTAs, forms and web pages, I use quite a lot of image editing software to create nice looking visuals and CTAs as and when needed for the pages.

Spencer:
So it's a very tech-focused job. Do you have a piece of technology that you dream about? Something that could greatly help you in your job?

Will:
It's difficult, because CRO is so experimental, it would be nice if there was a piece of technology that could, for example, analyse your clients' and your pages' requirements and give you the a solution that would work 100% of the time. But obviously that's a bit of a pipe dream, which is why experiments are needed!
Spencer:
So what do you see in the future of CRO? What trends do you see coming in 2021?
Will:
I think the most exciting thing for CRO on the horizon is definitely the advancement of smart content and marketing automation.
I think there's been a noticeable improvement over the past few years in the effectiveness of smart content and technology in being able to actually automate and predict a potential CRO activity based off of the raw data that you give it. For example, the data that it collects from people that come to a website, the numbers and the sort of pages they visited, the buyer personas they fit etc.
Smart content can then essentially tailor what the site visitor is shown, based on the data that is already received- and we can already do quite a lot with that. But I feel like in the future, we're going to be able to do so much more with it - the possibilities are really going to open up in terms of creating a truly tailored experience for site visitors.
Spencer:
What differentiates using an inbound marketing agency from using an in-house team or an agile freelancer?
Will:
I think the main advantage is the number of people that you can have working on a project, and the amount of expertise that comes with that.
I think when you work with a freelancer, there's only so much that one person can do - there's only so much knowledge that one person can have. There's just so many areas that one person alone couldn't keep a detailed knowledge of, but by using an agency like us, you can have multiple people on an account, each with their own area of expertise and specialities. They can be constantly keeping up-to-date with the newest trends and advancements in those areas and bring to the table the best of each area to really create the most optimised experience. I feel like that's a lot harder to do when you only have either a freelancer or a couple of in-house marketing staff.

Spencer:
So your role has a lot of interaction with other experts in the business?

Will:
Absolutely. I think that CRO can't really exist on its own, it needs to be part of the greater inbound marketing machine. For example, SEO ultimately leads into CRO, which can only truly take off once you've actually got the right visitors to the place that you want them to be. So that requires SEO to, in a way, precede CRO - to get the right visitors in, and then you can start really optimising.
So, of course, I have to work quite closely with the Search Engine Optimisers here, as well as the content people to make sure that the content on the pages is correct and high-quality, and that it meets our buyer personas' needs.
Spencer:
And I imagine designers as well?

Will:
Yes, I'm always working with our designers to make sure that the pages are built to the right specification, that we have the right modules that do what we want them to do, that pages look how we want them to look. Of course I also work closely with the strategists and account managers on the account, who are in charge of managing the general direction, making sure that everything's on target, things are happening on time, everything's meeting goals, and that ultimately, our clients are happy.
Spencer:
I know you have quite a varied job - there's a lot of interaction with varies people in the business, but what would the most regular highlight of your job be? What do you like doing the most?

Will:
Obviously, the highlight on an ideal day is always good feedback from clients.
Achieving a good result is always the best feeling you can have in this role, and being able to show a client a good result that you've achieved is always nice, but unfortunately not every day you can have that. So some days the highlight will just be creating something or doing a piece of work that I feel like is going to be impressive or beneficial down the line - something that I can feel very proud of. For example, if I make a page or even just an email and I just think "This looks really good, I think this is going to work really well", that's always a good feeling to have.

Spencer:
What about the opposite? What are your key frustrations or pain points?

Will:
I think the most frustrating thing would be when experiments don't go how you expect them to.
I think one of the one of the downsides to constantly being experimenting is that you never really know what's going to happen. You obviously base experiments off of hypothesis and data, you have an intention of what you want them to do and what you think that they'll do, but it's not always the case that they work how you want them to.
It's very frustrating when you implement something that you feel like is going to be very successful and achieve a result and then, for whatever reason, it doesn't do that. It's always very frustrating.

Spencer:
The role is really experimental - but how do you decide what to optimise? Where do you look for that?
Will:
I think, when you're looking at new things to optimise, the first thing that you want to do is always look at the pages that are currently getting the most traffic, because that's the best opportunity for the highest number of people you can convert, especially if it's got the right traffic coming in - if it's been properly optimised from an SEO point of view.
Once you've looked at the pages that are getting good traffic, you're looking if they're performing or not, asking questions like:
What's the conversion rate?
What are the click rates like?
Can we make it better?
Are we sending people where they need to go?
Is the traffic being directed to the relevant landing pages?
What are our key landing pages in terms of what our best offers are?
How are they performing? Do we need to be implementing experiments with those pages?
I think that would be the main starting point. Once you've gone through all of that, it's always a good idea to look for anomalies. Look through the site data to see if there's any numbers that stand out. Are there certain pages that, for whatever reason, are getting a lot more or a lot less traffic, or higher or lower click rates than you'd expect? Look into why that is, and how you can either capitalise on that or improve it if it's not performing well enough.
Spencer:
Do you have any top CRO tips that you'd like to share?

Will:
I think my main tip would be to always base your experiments off of some form of data - never make assumptions.
I think it can be easy to make assumptions, but I think that's also a dangerous path to go down. You need to be really basing your experiments and tests off of some form of data, whether that's tangible numbers based on that same website, something that has succeeded or not succeeded, or whether it's data from another website.
For us, that can be be another client, or even data that's coming from another source - you might have seen a whitepaper somewhere else that claimed that doing a certain experiment or implementing a certain element on a website leads to a greater conversion rate, for example.
You always want it to be basing your work off of something like that, rather than just a feeling that something might work