[Video] A day in the life - CRM Expert - Jack Williams
Spencer sits down with our CRM expert Jack, who discusses a day in the life as a Hubspot CRM & sales expert and how he delivers results for our clients.
Jack Williams
Published: 09 Mar 2021
5 minutes read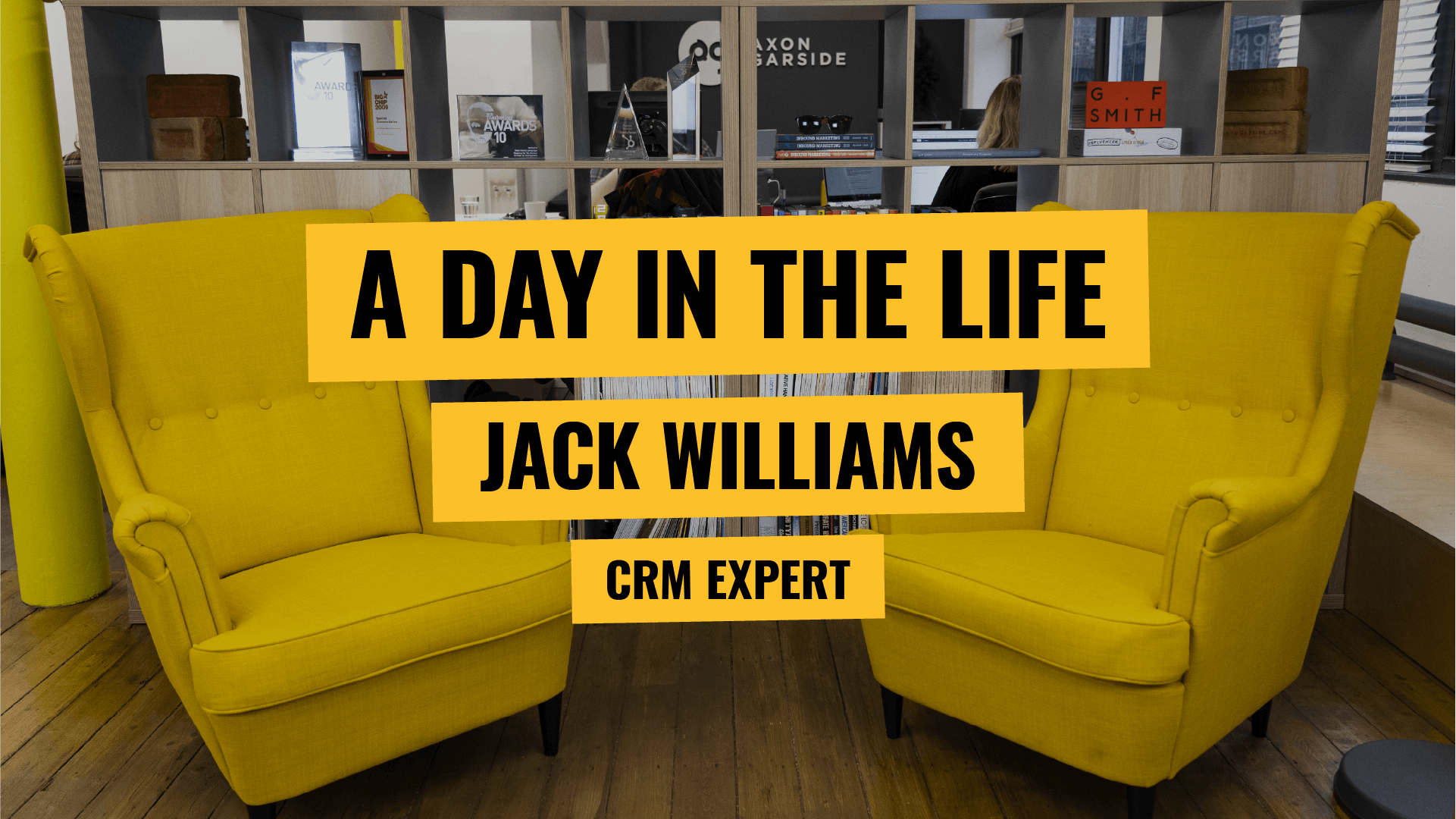 In this video, Spencer sits down with our resident CRM expert, Jack Williams.

Jack talks about his day-to-day role as a Hubspot sales & CRM expert, as well as common challenges our clients encounter, and provides top B2B inbound marketing tips.
If you'd like to know more about the roles within an inbound marketing agency, you can find it in our blog - Your Guide to Choosing an Inbound Marketing Agency.

If you'd like to read the transcript of the video, please find it below the line.
---
Jack:
My name is Jack. I work here at Axon Garside as the CRM specialist. My role is to help businesses adopt CRM, sales processes, and customer service processes, and build that into their day-to-day activities to help them service and communicate with their customers in a much more effective way.
Spencer:
Great. So as the CRM expert at Axon Garside, what does a typical day look like for you?
Jack:
A typical day for me really involves a lot of client calls.
I think the key thing with understanding a CRM requirement and working with businesses to help them adopt new processes and use CRM more effectively, is understanding what their pains, problems and objectives are as a business. That's from a business development perspective, from a customer retention perspective and from a perspective of providing customers with effective customer service and support, etc. So I spend a lot of my day on the phone, talking to people, understanding those issues, those objectives and so on. I then come up with plans and strategies to help them facilitate and achieve those goals.
A lot of my job is also spent digging around inside HubSpot to either set up new tools, set up new processes, build out new automation workflows, and so on, as well as looking at data and reporting to understand how the way in which the CRM is set up could be improved to better the overall result.
Spencer:
That is a tech heavy job. Do you work inside HubSpot predominantly? Or do you involve yourself with integrations with other platforms? What sort of technology do you interact with on a day to day basis?
Jack:
It's a mixture really.
Most of my time is spent in HubSpot. Most of the businesses that we work with use HubSpot now as their business software, so everything runs from it - from managing customer relationships, delivering customer service, their marketing, their sales and business development efforts, etc.
A lot of companies that we work with also have invoicing software, business processing software, things like SAP, SAP business one, Dynamics, CRP, etc. So, in some instances, there is a requirement to integrate with other pieces of software to ensure that processes are coherent and integrated across the business, but I'd say 90% of my time is spent using HubSpot.
Spencer:
In an ideal world, is there a piece of technology that you could have that would make your job easier?
Jack:
I think the software that I'd benefit from the most is software that I'd ultimately give to our customers. I think that AI, artificial intelligence, is going to be a huge thing in CRM, sales, software, marketing, and customer service software moving forward.
I think that if our customers had access to a tool that automatically presented them with, for example, customers that are the most likely to churn based on various data points that we could look at and pull together to say, "Well, this is this is a customer's likely to be unhappy, even though they haven't told they're unhappy" - that would be excellent.
I also think that, on the sales side, half the battle for a salesperson is finding good quality leads and working the best quality leads that are inside their system. I think it would be great to have an AI based tool that allows us to identify prospects that we possibly aren't aware of yet, but that would be a good fit for us.
This is the point where whoever's watching this - probably a salesperson that has that exact software - comes banging in on my door right now!
Spencer:
So AI is going to play a big part in the future of CRM. Are there any other trends that you can see coming up this year?
Jack:
I think AI is probably going to be the biggest one.
I'm having conversations with some current customers and potential new customers right now about how AI can be used to digitally manage certain parts of the customer acquisition process. Specifically, I think it's going to be a massive part of taking the onus off of staff within the organisation, especially now with people working from home. It's quite taxing, isn't it? To bring teams together and deliver a consistent high quality without some intervention from technology. So I think that's going to be a really big thing.
I think secondly, as well as ease of reporting, in terms of a lot of customers and potential new customers that I work with, their biggest challenges are typically around getting the right data out of tools. I've used things like Dynamics and Salesforce, for example, and I found that generating reports and custom reports through those tools is much more difficult than a lot of businesses would hope. HubSpot is really good at taking care of some of that and building custom reports in an easy and simple way. But there are still certain limitations, so I'd like to think that this year we'll see - from HubSpot and other vendors as well - some improvements in their ability to present the right data to the right teams.
Spencer:
Does your role involve a lot of interaction with the other departments at Axon Garside, or do you mostly work alone?
Jack:
It's a mixture. The main brunt of my my role is, at the start, speaking to the customer, weekly, or bi-weekly, depending on the relationship, to understand what's going on with their business, scoping out new processes for them - ways in which we can better use CRM to achieve those goals.
When it comes to actually working with people inside Axon Garside, I might rely on Will, for example. So, Will has been working alongside me and my consultant Rob delivering the project for the British Red Cross using CRM, automation etc, and Will has been instrumental in that in helping to get that all set up.
So, for example, Will will go into the tool and actually do the execution in building bots, for example, or workflows and automation strings etc. That would be activity that would either be previously scoped by myself or, in the instance of marketing related activities, potentially one of our consultants. So there is some collaboration with with other departments within the business, definitely. But the pre-sales and analyst activity is what I take care of alone in most instances, and then work with Will and others to deliver that.
Spencer:
So it's advantageous to work with an inbound marketing agency to cover your CRM support, rather than, say, an in-house team or an agile freelancer?
Jack:
I definitely think so. And anyone watching thinking, "Well, of course you'd say that because you're an agency and you work there and you want to sell more", - Yes, that true, but I think so, and the reason why is because I found that when working on CRM projects, you're working across many different departments. So marketing, sales, customer service, operations, management, whatever it might be - you very quickly start learning about the pains and challenges in those individual areas of the company.
For example, through the CRM and implementation of quality reporting, you might identify that the leads being generated through the website are converting at a much lower rate than any other type of lead. Therefore, there is probably a marketing problem, and in-house, we've got marketing strategists, copywriters, content creators, CRO experts etc that can help solve that issue.
On the website and functionality side, you might identify that there's a there's a flaw in the website in the way the user journeys are working. In that case, we've got a web team that can help with that. It could be that you can see from the CRM that at a certain part of the sales process, a lot of leads are dropping out. Therefore it highlights there's likely an issue with the sales team themselves, and maybe they need some extra training - we can deliver inbound sales training as well.
So it's not just that we deliver CRM projects, because fundamentally, you could go to a freelancer and they could deliver the whole thing for you, no problem. However, it's very unlikely that a freelancer would have the ability to look after all those different areas of the business like we can.
Spencer:
Yes, we have holistic problem solving available. What's the highlight of your day? What's a typical CRM experts day?
Jack:
The highlight of my day - and this is going to sound really geeky - but I absolutely love workflows and automation.
When a customer comes to you and says, "I've got this really time intensive process at the moment, and I have to have somebody place a call at X time, then an email needs to send, and create a task, and then send the document over to Y person". And you turn around to them and say, "Well, I can automate all of that for you". And they're like, "What, really?".
They're absolutely gobsmacked by it, and hearing "how can I save that much time?" to me, is probably the most rewarding part of the job. You can see it on someone's face - well, not so much anymore, because everything's done through the phone! - but you can see it on somebody's face that they're excited that you've just solved their biggest challenge in their business.
Spencer:
So, as the opposite, what's a real, common pain point for you.
Jack:
I don't want this to be taken the wrong way, but I think sometimes I'm working with some businesses that can be very set in their ways. This is to be expected, especially if you're working with an organisation that has done something the same way for a very long time.
It can sometimes be frustrating if people don't want to change. And in the line of work that we do, you're trying to help somebody implement a CRM, but maybe they haven't had a CRM before. Maybe they haven't had automated processes before - it's difficult approaching how to set a way of doing things when sometimes certain people in the business are very reluctant to, for example, record the fact that they're speaking to people, or upload documentation to the CRM, etc. That can sometimes quite frustrating.
On the flip side of that, I think another really rewarding part of the job is when you get those kinds of people and you convert them into a new way of thinking that's beneficial for both sides.
Spencer:
Lastly, do you have any top tips for people implementing HubSpot CRM?
Jack:
The key thing that I've found with implementing and adopting CRM is that if people don't fully adopt it, it won't work.
You really need to get the buy-in of the whole business. Once you've got that buy in, and people realise a change is going to be made, it's really important that management doesn't dictate how the CRM is going to be set up.
There is, of course, an element of that to enable them to get reporting out of it, to help them see the benefits of it for them, for example, in reporting to the board or meeting objectives etc. However, it's really important that the people who have their feet on the ground, the salespeople, the customer service reps, etc, have input into how that system is set up. Because if they don't adopt it, the people at the top aren't going to get that data back. And that's the number one thing I would say.
Spencer:
Well, thanks a lot, Jack. It's great to get a bit of insight into the role of a CRM expert. Thank you very much.