The 6 Most Important Metrics For Your Digital Marketing Plan
To create a successful digital marketing plan, a key understanding of marketing metrics such as visitors and SEO is essential. George Linley
Published: 10 Jun 2015
5 minutes read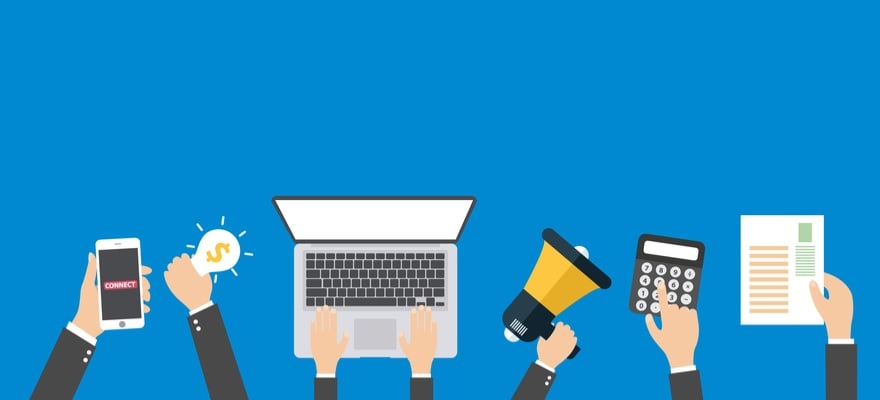 Measuring the success of a new digital marketing plan can be daunting. With an array of figures, statistics and leads it can be difficult to prioritise the metrics that matter. However, you can only make performance improvements and succeed in lead generation if you have relevant data to analyse. Below, we discuss the metrics that need your attention.
Site visits
The number of site visitors is often the first metric a marketer will analyse, full stop after all – visitor numbers indicate how well your SEO is working, as well as your content promotion efforts. However, site visits isn't an entirely relevant metric in isolation when measuring the success of your content. Sometimes seen as a 'vanity' metric, site visits don't necessarily reflect the quality of your content, nor do they provide insight on the journey that people take once on your site.
Instead, pay attention to the number of returning visitors. By assessing these figures, you can clearly document how engaging your site is, propelling people for a return visit. If your returning visits are low, consider making your content more relevant and focused towards solving your audience's problems.
While prospects are on your site, create opportunities to gain more information about them. By using calls to action, landing pages and forms, you can offer prospects additional educational content – making them more likely to return and progress down the sales funnel. Once equipped with their email addresses, you can also extend engagement between your company and the prospect.
Time spent on site
Surprisingly, half of your visitors spend just 15 seconds on your site. Obviously, you want to extend this time wherever possible, as more time spent on your site means more chance of converting prospects into leads. If you're finding that your visitors are literally bouncing straight off your site, then your content may not be as reader-friendly as you think. Large, wordy blog posts and service pages are visually unappealing, causing prospects to click off your site before reading any of your content. Therefore, consider making your content more digestible by using white space and images.
Sources
If you're using a CMS such as HubSpot, then you will be able to look at website traffic sources. With this information at hand, you can strategically analyse which of your promotional efforts are working well and which aren't. Say social media isn't bringing in as much traffic as email marketing, it's clear to see that the tactics you are currently using aren't effective and a different direction is needed.
The journey of your website visitors
Gaining website visitors is all well and good, but to maximise the potential for lead generation, a clear insight into the website journey of your prospects is essential. With more sophisticated content management systems on the market, you can view the entire journey a prospect takes on your site. For example, a prospect may have visited a blog from a social referral, then clicked on a call to action and filled in a form on the landing page. Having a clear understanding of your visitor's journey is vital as you can identify the broken links in your inbound marketing process.
Say for example, a large proportion of visitors are clicking on calls to action, but not filling in the form – it's clear to see that either your form is asking for too much information, or the offer isn't compelling enough to warrant their time and details. Your landing page copy could also be failing to effectively sell the offer and generate excitement. With this insight, you can assess where improvements need to be made, equipping you with the power to achieve a greater prospect to lead conversion rate.
Keyword rankings and SEO
To get found by search engines and people in the first place, an effective SEO and keywords strategy needs to be implemented. Google Analytics and other tools give you a range of keyword metrics – with the most important and relevant being ranking and search volume.
When analysing your keyword performance, focus on how your keywords are aiding your overall visibility in search results and subsequent traffic. Firstly assess the ranking of your targeted words. This metric determines how high associated pages appear in search results. HubSpot's keyword ranking tool also lets you view how many visits have resulted from this keyword, highlighting which keywords are worth your time and effort. As an example, a keyword may be ranking highly, but has a low visit rate, which indicates a low search volume (another important metric to analyse). In this scenario, although you may be ranking highly, people just aren't interested in your search terms – so consider using keywords which have a higher search volume.
Bear in mind, keyword rankings are very competitive. Using analytic tools to benchmark your rankings against competitors is an extremely useful process as it highlights the terms which your target audiences are likely to be searching for and are popular within your industry. If you're struggling to think of the right keywords to use, competitor tools are great for gaining inspiration and generating content ideas.
Most content management systems and website builders have built-in SEO tools and plug-ins such as HubSpot's SEO view. If you have limited knowledge of SEO, then we highly recommend for you to get acquainted with these tools. They analyse how well your blog post or page is optimised in a user friendly report, suggesting areas to improve or aspects not SEO friendly such as missing alt text on images or keywords within the copy.
Don't focus on vanity social metrics
So your business Twitter profile has 2,000 followers – how does this impact your site traffic and lead conversion? On its own, not very much. Social following adds very little value to your overall marketing plan. However, social media can be a valuable marketing tool if you look at the metrics that are relevant to your overall digital marketing strategy goals. With social metrics, look at key areas such as post engagement (shares, comments, likes) and most importantly, social referrals. These metrics highlight how many people are actively engaging with you on social media and are likely to become prospects in the future.