Put yourself on the map: why use local SEO for B2B lead generation
If you really want to get started with B2B lead generation, optimising your website for local searches is an important step. How's how to get started. Paul Marshall
Published: 22 Jun 2017
5 minutes read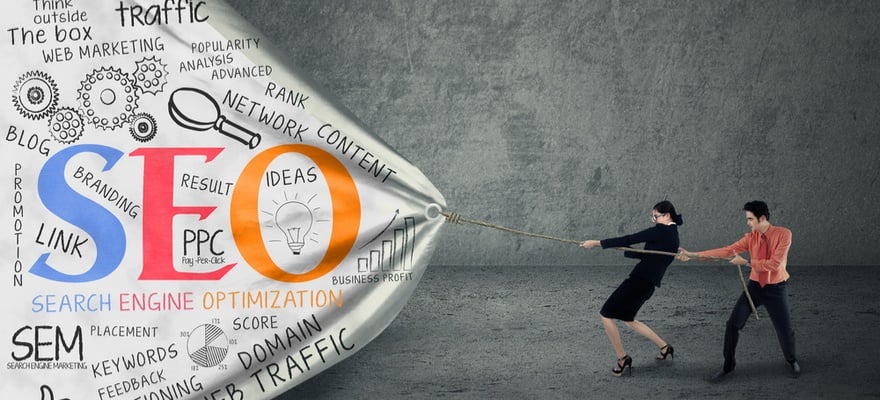 The term local SEO can sound like an oddity when it comes to discussing optimisation on the big world wide web, but Google has consistently adjusted its algorithm to take into account a user's location or searched for location when returning results. So what do we mean by that and how can we use it for B2B lead generation?

With the advent of smartphones, which have GPS built in so they can pass your location (once you give permission) to Google when you search, it's now even easier for searchers to receive genuinely localised results to their location without needing a third-party application. This is also true of desktop searches, where your IP address is interrogated, so even if you're using Incognito mode in Google Chrome, where Google knows nothing about you or your search history and so cannot sway the results based on those factors, you'll still find that searches for services will first return companies that are located closer to you.
Of course, there are times when you're in another location, say at home, and you're searching for a product or service close to a different area, such as work. In this scenario, you're more likely to append a location to the end of your search query to steer the result to a list of suitably located vendors.
So that's how it works, but how do you set it up and start using it to generate leads?
Keep your details up to date
For three key elements you need to consider, think of the acronym NAP: name, address and phone number. It's absolutely essential these three pieces of information are not only accurate across all of your site pages, but also on any third-party sites that have your company listed. If you've ever changed your company name, address or phone number, it's important to do some research and update the information displayed about you so that it's consistent across the web.
Google will utilise trusted directory services to deliver search results to users, so any discrepancies in the information it finds will be a black mark against your business. If you have multiple locations, and these need to be genuine office addresses, you must do this for all of them. Make sure the information you submit across all sites is completely consistent to the letter. Type addresses out first into a document so you can copy and paste, rather than retyping each time and running the risk of an error. And make sure any phone number you use starts with the local area code, rather than an 0845 or another generic code.
As well as having the details of your location(s) accurately listed on your website, think about whether you can create content that includes information about the location of products and services you deliver. For example, if you publish a blog about a new system you've installed for a local company, make sure you mention the town or city in the post. Connecting the pain points your solution addressed, the keywords around that solution and the location of the implementation will help to solidify your business as a suitable result to return in a local search.
Google My Business and local SEO
One of the key steps in local SEO is setting up a Google My Business Page for each of your locations. It gives you the opportunity to share your company name, mission statement, address, phone number, website, services offered and even opening times. In addition, you can share images and links on there. The more you share, the more likely it is that Google will show it love and share it in the rankings.
Just generating the page and leaving to rot just won't work - it needs TLC and updated content just like any other social network page. You can easily set up a Business page, but be aware that the verification process can be a bit tricky. We set up Business pages for each of the branch locations of our client Burnt Tree, which required a postcard to be sent to each location with a code printed on it that could be entered to verify the address.
On a few occasions, we had to contact Google support because the addresses we had entered were not recognised as valid locations for the businesses. When we investigated, we found a few map markers had strayed from their correct location, so it's key that you double check these - make sure they sit right on top of your building on the map. At one point Google wanted us to send images to prove that one of the Burnt Tree depots was located where it was! Fortunately, we were able to screen-grab shots from Google's own street view car. So you may have to jump through a few hoops, but it's this high level of validation that means Google trusts the data, therefore its value in search is gold.
Want to learn more about local SEO? Check out our ultimate guide to SEO here.
Business reviews for B2B lead generation
Reviews might seem like an odd thing to worry about, especially in a B2B environment - we see that sort of thing for restaurants and hotels more commonly. However, as far as Google is concerned it doesn't really care if reviews don't fit your business model. It does care if you don't have any reviews. It's not unusual to request testimonials from clients for your website, so it's also worth considering pointing them in the direction of your business page and asking them to contribute there as well, with that caveat you should never solicit good reviews from people (i.e. prizes and incentives for good reviews, financial consequences for bad), but give everyone an opportunity to comment.
You should take every opportunity for people to review your services, and see even the bad reviews as a chance to rectify the situation with a prompt and helpful response. Things go wrong from time to time, and seeing how well this is handled out in the open could actually encourage new customers to come to you.

Remember that other companies as well as Google are looking to cash in as go-to search points. The likes of Bing, Foursquare, Facebook and even Apple are realising the potential of local search, so don't miss an opportunity to get your business details on these additional networks.
This blog was originally published in December 2014 and has been updated where possible for accuracy and comprehensiveness in June 2017.