Our Pick of the Best B2B Social Media Marketing Channels
Struggling to decide which social media marketing channels to use? Here's our pick of the best for B2B companies. George Linley
Published: 12 Jun 2015
5 minutes read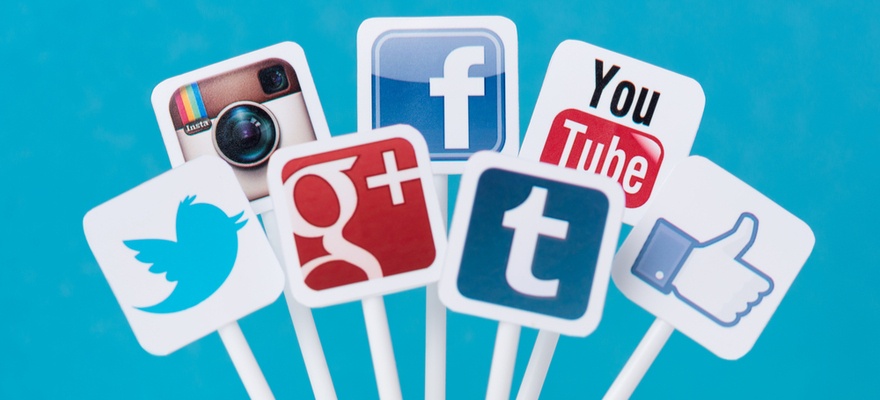 Before social media marketing, it was impossible to build relationships between businesses and clients in a public online space. Social media has changed this, enabling businesses to showcase their brand's personality and humanity, which simply isn't possible with traditional forms of marketing.
Few B2B companies were advocates of social media marketing in its formative years, wary of the transparency social provides. Recently, however, the industry has seen the potential, with 84% of B2B marketers now actively using social platforms.
It seems that a new social platform is released every day, so it can be difficult to keep up with this ever-changing area of marketing. If you're a social media novice, you may plan to attack every channel out there for maximum exposure, but this approach is counter-productive.
Is Facebook a worthwhile venture?
Facebook is the biggest social platform in the world, with 1.4 billion monthly users, making it understandably the first platform of choice for many B2B marketers. However, you may also be familiar with the social giant's algorithm update, which saw the visibility of Facebook page posts drop to 2%.
This drastic change has divided opinion among marketers: can the ever-crowded Facebook still be a useful marketing tool? Yes – but only if you invest in paid advertising.
Is Facebook advertising the future?
Thankfully, the sophistication of Facebook advertising more than makes up for the additional costs, surpassing LinkedIn advertising in every stretch of the imagination.

Facebook's clever custom and look-alike audiences ensure your adverts are delivered only to specific, relevant people while growing your existing lead base. With custom audiences, you can use email addresses from your database to find and target these people on Facebook directly.

'Look alike' targeting, however, is where things get very interesting. Rather than presenting your advert to your existing database, Facebook use your supplied information to find new potential leads who are similar to your existing audience, allowing you to simultaneously target and grow your database. If you're still worried about the initial cost of Facebook advertising, you may be relieved to learn that click through rates have increased by 260% since last year, while ROI is at 152% on average – with this positive trend predicted to continue.
HubSpot case study
All-in-one marketing software and inbound pioneer HubSpot wished to increase leads generated from Facebook and so initiated an ad campaign to achieve its goals.
Through a combination of targeted ads and sponsored content – highlighting the benefits of HubSpot and free content deals on offer, HubSpot was able to achieve these results in a three month campaign:
Increased sales from Facebook by 71%
Achieved a 15% ROI increase
Witnessed a 39% increase in traffic from Facebook
*You can read the full case study here
LinkedIn continues to pave the way for B2B
For B2B social media marketing, LinkedIn is where you're probably going to be most successful. Dubbed as the 'professional Facebook', LinkedIn is the place to reach professionals and businesses who are actively looking for new ventures and expert advice from industry specialists like yourselves. In fact, six out of ten LinkedIn users come to the site to specifically find industry insights. LinkedIn has become part of the workplace, with people regularly active during work hours. This is a great opportunity to reach out to prospects, as they will already be in 'work-mode' and be more receptive to your content and related discussion points.
Sticking to the principles of inbound marketing, refrain from the aggressive sales-pitches. People on LinkedIn are there first and foremost for advice and insights, second for researching businesses and services. It's best to refrain from transparent promotion – stick to sharing blog posts that focus on educating the reader and solving their pain points.
LinkedIn users are much more willing to communicate and network with you on your posts and group discussions, so have this in mind when structuring content. Presenting a specific viewpoint or open question is a great way to get people talking about your content and your level of expertise.
Why you should use LinkedIn
Since its conception, LinkedIn has been a firm favourite of B2B marketers and companies. In terms of lead generation, LinkedIn is king, bringing in 80% of total social media leads in the B2B sector, while being the best social channel for B2B content distribution, with around 50,00 long-form posts published on a weekly basis. The professional network is also the place where you're most likely to find decision makers and senior employees who are relevant to your target market.
By incorporating LinkedIn into our own strategy - sharing our blog posts into relevant industry groups and through personal profiles, we were able to increase our blog views by 44% in one month. As a result, we achieved more site exposure and more high quality leads.
What about Twitter?
What makes Twitter unique? It's one of the only platforms that treats people and companies as the same, with profiles for both individuals and companies. Why is this important? Because it enables your company to directly communicate with other companies: commenting on posts, sharing content and so on – perfect for B2B.
With Twitter you're restricted to 140 characters, so keep tweets short and concise. A good approach is to view your tweets as newspaper headlines: thinking about which tweets are going to get people to click and engage.
With Twitter's quick turnover of content, the channel is commonly the first place for the latest business and brand news. In fact, 42% of Twitter users log-in mainly to learn more about new products and services, making it the ideal platform to promote 'of the moment' insights. By keeping your potential clients informed and engaged, it's no surprise that B2B businesses who are active on Twitter gain twice as many leads as those who aren't.
Other channels to consider
While Facebook, LinkedIn and Twitter are arguably the most well-known channels in the B2B sector, there are plenty of other platforms out there that can be beneficial to your B2B organisation.
Be visual with Instagram and Pinterest
Image sharing social channels aren't solely reserved for selfies – B2B businesses can also get in on the action. Pinterest and Instagram are ideal platforms to share compelling infographics: transforming dull stats into sharable posts, furthering the reach and compatibility of your content.
Pinterest itself brings in three times the traffic of Google+, YouTube, Twitter, StumbleUpon, LinkedIn and Reddit combined – making it a clear choice for drawing in large crowds off the back of visual content.
Improve SEO with Google+
Google+ has yet to bring in a large enough crowd to challenge the likes of Facebook, but the social channel's SEO benefits cannot be ignored. As the social channel is owned by the search engine giant itself, search results are heavily influenced by posts from within the platform – making Google+ a powerful tool for visibility.
Create brand awareness with YouTube
Did you know that YouTube is the second largest search engine in the world, only beaten by Google? With four billion video views a day and thousands of potential opportunities for rankings, YouTube's SEO benefits are plenty.
YouTube is the perfect channel to increase brand awareness. Have a new product launch, or perhaps you've just presented at a conference? YouTube allows you to offer an insight into your brand that isn't possible with written content. A significant proportion of B2B marketers are already exploring YouTube, with 38% using the channel to engage with potential prospects.
Offer your audience educational, original and engaging video content and referred leads will be much warmer when they arrive at your site. In fact, referrals from YouTube spend the longest time on your site when compared with referrals from other social networks (227.82 seconds) and will visit three pages on average.
Had success with other social channels we haven't mentioned? Let us know in the comments section.