How to Create Customers Online: Building your B2B Sales Pipeline
In this blog, we help you learn how to optimise your B2B sales pipeline for the new generation of online buyers, including your website and lead scoring. George Linley
Published: 28 Sep 2015
5 minutes read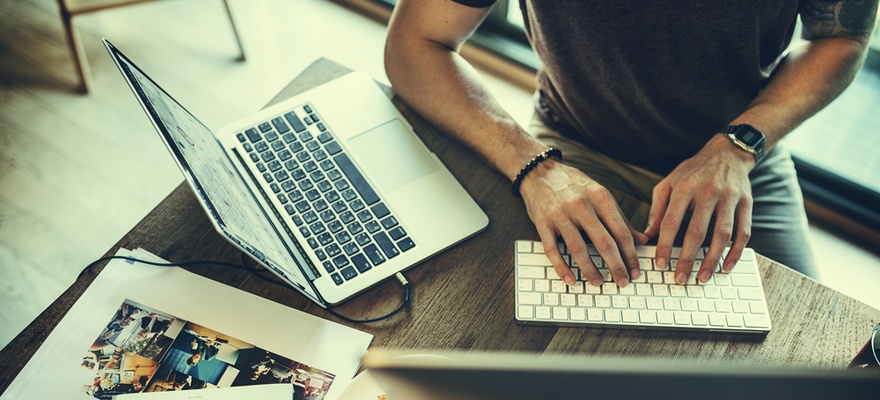 In the formative years of the internet, a brochure style website was sufficient in achieving a company's marketing goals. Back in the early 2000s, company websites were still perceived as a novelty and had a limited impact in the B2B sales pipeline. It was rare for a buyer to undergo serious research online – instead they relied on traditional marketing methods such as magazine ads, trade shows and sales calls. As long as a website was well designed, offered basic contact information and was aesthetically pleasing, visitors were happy.
However, back then, significantly less buyers were avid web users. In 2000, there were only 361 million internet users in the entire world. Comparatively, there are over three billion internet users today. Furthermore, Google, which is commonly a buyer's first destination for business research today, had only just come into existence.
Fast forward to 2015 and the internet as well as your buyers have significantly changed, meaning the B2B sales pipeline needs to be revaluated…
The brochure website is over
By the end of 2015, the number of internet users worldwide is set to surpass three billion – almost half of the world's total population. Why the influx of users? While a number of factors are involved, advancements in technology, availability and a greater understanding of the internet has driven the buyer to go online.
According to Sirius Decisions, around 67% of the buyer's journey is done digitally, with 46% of buyers using a search engine as their first research source. With a significant amount of prospective buyers using the internet to perform business research, a brochure website does little to help generate leads. While it may have a glossy exterior, a website that lacks educational content and substance isn't useful to a buyer who is seeking a solution to their specific pains.
The sales pipeline and lead generation
The modern day B2B sales pipeline should always start with a website optimised for lead generation. What does this look like? Well firstly, a B2B website that offers regular and relevant content pleases both search engines and prospects. As discussed by Google, supplying visitors with regular and fresh content is critical to the search engine's algorithm, helping to improve keyword rankings, organic traffic and ability to generate links.
Offering education, not promotion
In many instances, this will take the form of a consistent blog programme. As HubSpot reveals, 96% of prospects are not ready to buy straight away when visiting your site. During the research process, they are initially looking for ways to solve their business problems, not compare vendors. Blog posts should therefore be highly educational and effectively solve your prospects' niche problems, while offering your service or product as a possible solution.
Process through the buyer's journey
Within a successful sales pipeline, a visitor should always have a visible action to undertake in order to process to the next stage of the buyer's journey. After reading an educational blog post, a prospect should have defined their problem and will be receptive to additional content that offers a solution to their pains. This can be presented in the form of a downloadable guide or e-book, which prospects can claim by supplying personal information such as their telephone number and email address.
At this point in the buyer's journey, a lead may be ready to pass over to sales, as you now have the necessary contact information. In some instances, this is where the job of a marketer is done. However, to truly improve the sales pipeline, there needs to be an alliance between sales and marketing.
Beyond lead generation: bridging the gap between marketing and sales
Without an established relationship between sales and marketing, it becomes very difficult to assess strengths and weaknesses throughout the sales pipeline. Sales may attribute poor business wins to marketing's supply of low quality leads. In equal measures, marketing can just as easily blame sales for their lack of lead follow-up. To ensure that there aren't any gaps between marketing and sales, communication is key.
Initiate lead scoring
Before a lead is passed onto sales, requirements for a 'marketing qualified lead' need to be defined. HubSpot's definition of a marketing qualified lead is a "lead judged more likely to become a customer compared to other leads".
Through analysing past wins and existing customers with your sales team, you can determine which demographics, activities and behaviours should make-up the grading for a marketing qualified lead. After establishing your definition of a marketing qualified lead, you can assign point values for various qualifications as part of the lead scoring process.
For example, a marketing qualified lead for Axon Garside should meet the below criteria:
Is either the decision maker or marketing manager
Operates within the complex B2B software industry
Has shown interest in our company i.e. downloading guides and been receptive to our emails
Has sufficient budget
We can identify how our service can benefit them and solve their pains
Through having this set criteria in place, you can ensure that only high quality leads are passed over to sales. As a result, your overall sales pipeline will be more efficient, as sales no longer waste time on poor-fitting leads. Furthermore, marketing will spend less time on further nurturing leads that aren't ready to buy.
However, the relationship between sales and marketing is a two-way street. Let's say that marketing passes over a lead to sales. While this lead has been qualified by marketing based on the agreed criteria, sales still feels that this lead isn't ready to be sold to. In this instance, the lead needs to be passed back over to marketing for further nurturing. Delegating leads between sales and marketing can be a difficult task, making it essential to link marketing automation with your CRM system.
Linking marketing automation with your CRM
Linking marketing automation with your CRM makes the whole process of tracking leads a whole lot easier. Determining the history of a lead, its stage in the sales pipeline and managing lead ownership becomes much simpler due to greater visibility between sales and marketing.
HubSpot goes one step further, integrating its marketing automation tools with an easy to use CRM - all within the same platform. HubSpot's CRM pulls in useful information from marketing activity automatically, such as contact activity and personal information, making the sales conversion process much more efficient.
If you're interested in finding out how you can improve your B2B sales pipeline and conversion rates with HubSpot's tools, you may be interested in our free HubSpot analytics demo.