If you're thinking of renewing your company's online presence in 2017, here's how you can ensure your B2B website design is fine-tuned for the ultimate in lead generation and conversion.
Every B2B marketer knows how important it is for their company to have a great website - that's why so many of us will have redesigns pencilled in for the new year. But will the appearance and features of your 2017 website really convince visitors to turn into leads - and, eventually, customers? If this is your aim, here are a few of the website design trends we think you ought to give your full attention.
Mobile first
For the first time in history, in November this year there were more people worldwide accessing the internet via mobile than through desktop, according to StatCounter Global Stats. This might not hit you in the face the same way Brexit and a Trump presidency might have, but in the context of web design, it's big.
This should hammer home the idea that instead of just optimising websites for mobile as an afterthought or as a secondary goal, there's a clear argument for designing some B2B websites with mobile users in mind first. This is key to attracting the right customers, who may bounce off a mobile website that's not been optimised to their specific needs.
It's especially relevant, for example, if your ideal buyer is on a factory floor all day, or constantly in transit and can only access your website through their smartphone.


Semi-flat designs and lightning speed loading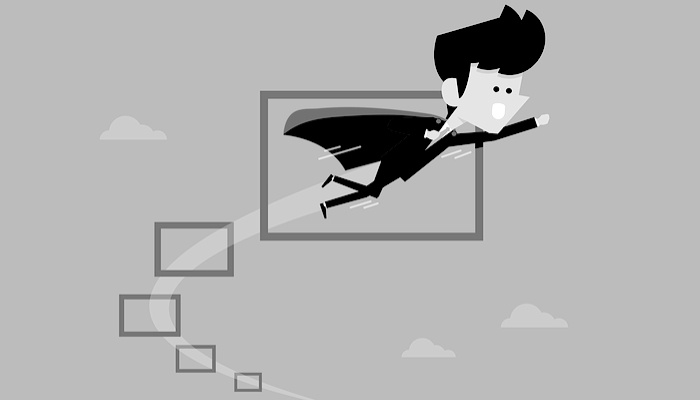 Flat designs are great because their clean, minimalistic style allows users to navigate easily around the site. However, it's led to a uniform look with many B2B websites looking very similar to one another, and sometimes rather bland to boot. The emergence of the hybrid semi-flat design will solve this by adding much needed depth, shadows and detail to your content.
It's not just about how it looks, either. A flat design will benefit users who want to see your content quickly, and websites are doing all they can to reduce loading times - you may have noticed Facebook's implementation of instant articles as an example. Designing a fast website that is fully responsive will improve user experience and reduce bounce rates.
Your B2B website should cater to how people naturally interact with it. This will involve testing to see where users click and look when they first visit your website, giving you answers to questions like "is the key information as easily reached as we originally thought?"
The infinite scroll
As the death of the fold demonstrates, customers accessing your website via mobile will favour long scrolling. Infinite scrolling replaces clicking and allows users to access more content just by swiping - rather than having to fiddle around on their small screens. The rise of social media apps like Instagram and Facebook who deploy long scrolling have made this feel natural.
Animation amour
The Learning People's homepage features a moving background image for added dimension and a contemporary touch.

It's not always easy to produce videos for B2B websites - there's a lot of planning, time and production involved, especially without an in-house video team. However, a lot of designers are now turning to subtle motion images such as the cinemagraph and animated GIFs to add movement to their websites. These are best placed in the background or other strategic places of your website. A perfect example is by The Learning People who have added a nice seasonal touch to their homepage, and with sound too!
Contextual marketing
According to Salesforce, a potential lead will visit your website several times before they make a request for any information. It shouldn't be surpising that companies are now using this to their advantage. Smart design tools can store information about vistitors to your website and then tailor the content they see to match their needs and demographic. This will make for a much more immersive user experience.
Su
persized CTAs with premium content offers
Your website design should consider bigger and bolder CTA's placed higher up in your blog posts. Our own research has shown that offers seen earlier in an article often perform better. The premium content offers will allow you to acquire leads through ebooks and infographics at an earlier stage in the buyer journey, rather than just when they're ready to be sold to.
Le
ss annoying forms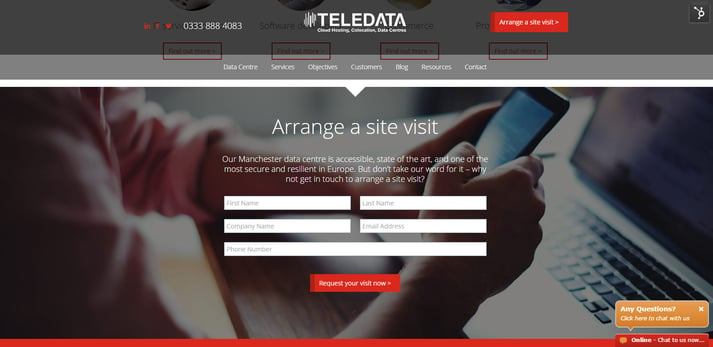 In 2017 we (hope to) say goodbye to disruptive input forms. Instead, we predict an increase in full-size forms - as demonstrated in the website of one of our clients above (TeleData, a Manchester-based data centre provider) - that expand width of the screen. It's less disruptive as it allows customers to simply scroll down if they're not interested rather than manually having to close the modal. The bigger size will encourage people to fill out the form, as opposed to those measly subscription boxes on the side that no one can really see.
Bespoke & brand-curated illustrations
You should consider cutting back on your use of stock imagery and replace it with a mix of bespoke illustrations and images that reflect your brand.This will be valuable in giving customers an authentic insight into who your company really is, and separating yourself from the competition.
Goodbye to Flash
Most browsers don't support Flash anymore, and Google Chrome is taking steps to encourage web designers and developers to replace it with HTML5 to reduce page load time. If your website does use it, customers (as of December's Chrome 55 update) will have to go through the dreary process of enabling it first. It's probably better if you don't include Flash in your website for the new year.
A note on growth-driven design
When you design your website, it's all too easy to get sidetracked for months at a time by deciding which shade of blue will look best, or finding the latest and quirkiest styling. Whilst this may feel important, what matters more is a growth-driven design methodology that puts the user first. The features you implement should be based on audience research rather than assumptions, or even the design trends that you see in this article. The best thing you can do is to continually strive to understand your customers, indentify what works for your business, and take a structured and ongoing approach to designing and building your website.
Want to make sure that 2017 is the year you break website visitor and lead conversion records? We've written a checklist of everything your B2B website should have.