Top 21 Manufacturing Podcasts you Need to Hear for 2024
Keep on top of the latest developments in the manufacturing industry. Here are our top 21 manufacturing podcasts you need to add to your playlist.
Mayur Mistry
Published: 08 Nov 2023
9 minutes read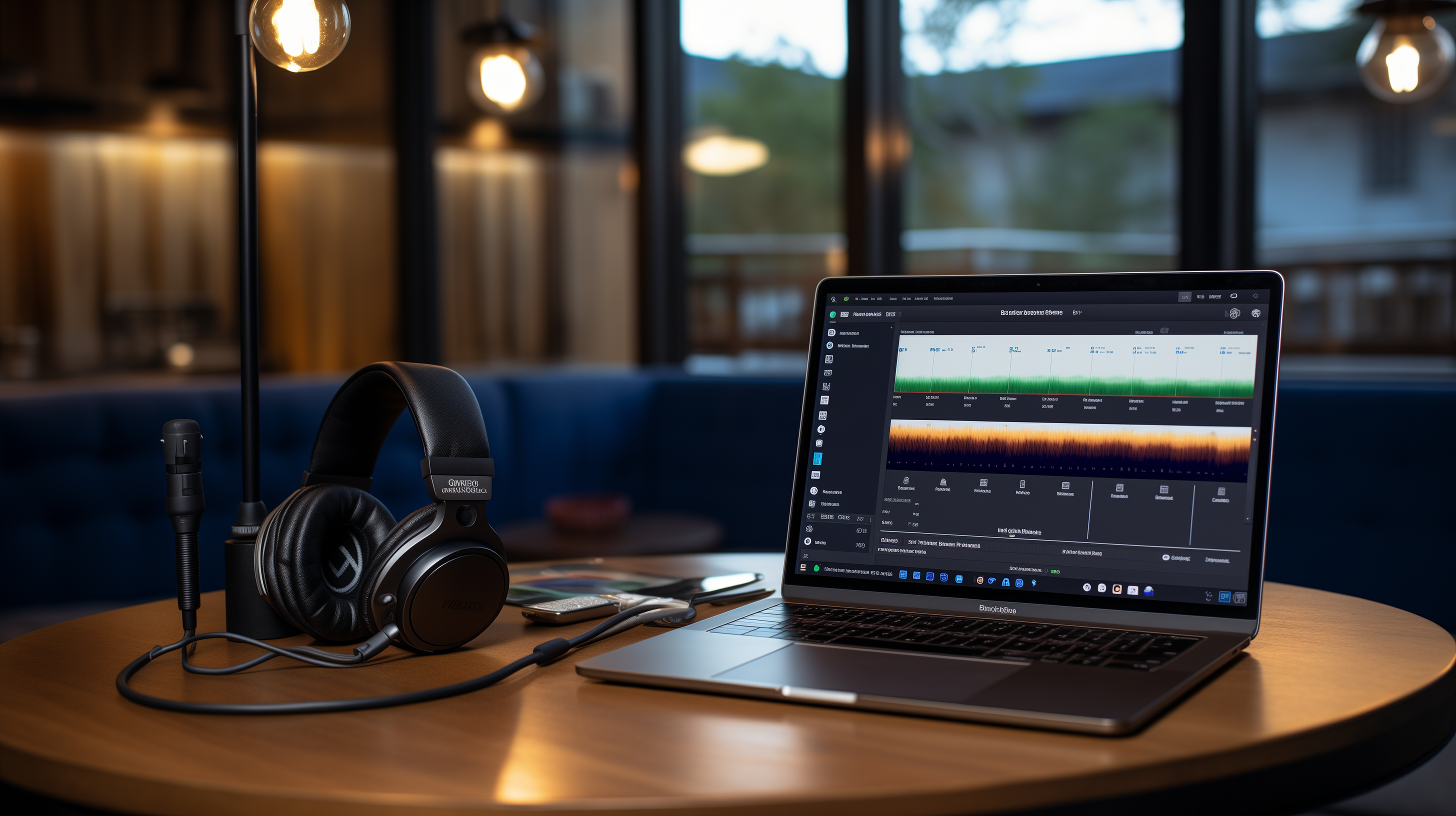 The UK manufacturing sector is entering the so-called "fourth industrial revolution."
With technological advancements such as Artificial Intelligence (AI) and automation changing the face of how factories are operating, you need to keep your finger on the pulse and keep up-to-date with the latest developments.
While you could subscribe to traditional trade magazines, time is a valuable commodity, and there's a growing appetite for content that can be consumed on-the-go, with a staggering 464.7M podcast listeners worldwide - 22% of all internet users.
Thankfully, there are plenty of podcasts centring around the UK and international manufacturing space. To help you save time searching, and increase your listening, we've compiled a list of the top 21 manufacturing podcasts to help you stay informed and stay ahead of your competition.
This list covers everything from the latest manufacturing tech trends to real stories from the factory floor.
1. Make & Market - Content Marketing Secrets for Manufacturers
Host: Lawrence Chapman, Content Lead at Axon Garside
One thing that often gets overlooked in the UK manufacturing sector is content marketing. Over 51% of marketers feel moving past the traditional marketing mindset is a huge challenge within the industry.
In each episode, host Lawrence Chapman, Content Lead at Axon Garside, welcomes expert guests to discuss effective content marketing strategies and how manufacturers can apply them in their respective strategies.
Whether you're a seasoned manufacturer or just starting out, Make & Market serves up compelling conversations, expert tips, and practical advice for practitioners keen to introduce content marketing best practices at their company.
Listen to the first episode below:
2. Industry 4.0 Ready
Host: Deloitte
For some time, digital transformation has been a hot topic in UK manufacturing. The sector is undergoing a transitional period as firms look to streamline their production processes to speed up time-to-market.
Deloitte's Industry 4.0 Ready is a podcast series that delves deep into the importance of digital transformation across the manufacturing sector. Key discussions include how this shift will positively affect production and servicing.
An informative podcast featuring engaging discussions, each episode provides valuable insights from leaders and academics as the industry responds, recovers and prepares to thrive in this new era of manufacturing.

3. MakerCast
Host(s): Jon Berard

Every manufacturing business starts with an idea for a product. Yet, while anyone can think of an idea, bringing it to life is another story.
MakerCast is a podcast that explores the lives of makers and creators. It helps you become aware of the underlying motivation of being an entrepreneur in manufacturing, and why they wanted to introduce a new product to the market.
Featuring interviews with craftsmen, engineers, and entrepreneurs, MakerCast offers perspectives on project management, creativity and the human element in manufacturing.
4. The Art of Manufacturing
Host(s): Krisztina 'Z' Holly
This light-hearted podcast provides a well-rounded view surrounding the challenges and triumphs faced by manufacturers today. The series covers a wide range of topics including sustainability, innovation and entrepreneurship in manufacturing.

Host Krisztina 'Z' Holly is really engaging and uses her entrepreneurship background to ask really insightful questions to great effect.
All of her guests, ranging from entrepreneurs to business leaders, really open up to share their experiences to help you really understand the mindset of manufacturers today.
5. Advanced Manufacturing Now
Host(s): SME Media
In recent years, we have seen an influx of advanced technologies like robotics, 3D printing and automation entering the factory floors to speed up production and enhance quality assurance procedures.
Advanced Manufacturing Now is a podcast aimed at professionals who want to be in the know of the latest cutting-edge manufacturing technologies and practices. It also features interviews with experts who are at the forefront of implementing state-of-the-art technology to streamline production.
It's a must-listen for those interested in advanced manufacturing.

6. Making Chips Podcast
Host(s): Jason Zenger & Nick Goellner
Hosts Jason Zenger and Nick Goellner are highly experienced manufacturing leaders who want to "Equip & Inspire" professionals within the sector.
This podcast series features candid conversations with other manufacturing leaders and industry experts. The discussions revolve around various topics including hiring practices, business strategies and how to adopt new technologies.
Making Chips isn't about chip production as the title suggests, but offers a holistic view of running a manufacturing business.
7. Manufacturing Happy Hour
Host(s): Chris Luecke
Manufacturing is a serious business, but thankfully host Chris Luecke brings a laid-back and casual tone to this engaging podcast, with the host and his guests engaging in casual conversations whilst enjoying a pint.
This podcast series covers the latest trends within the industry, which include digital transformation, leadership best practices and business strategies.
The Manufacturing Happy Hour serves as the perfect platform for manufacturing professionals to relax, unwind and learn something new.
8. Lean Blog Interviews
Host(s): Mark Graban
Many manufacturing businesses are adopting Lean practices, which is a set of management practices to help reduce time within the production system. It's based on procedures set out by the Toyota Production System (TPS).
Host Mark Garban speaks with a range of experienced manufacturing experts to share practical advice on how to implement Lead practices, reduce waste and improve overall efficiency and output.
This podcast also delves into real-life examples, making this series a valuable resource for professionals working in process-driven industries.
9. The New Warehouse
Host(s): Kevin Lawton
This podcast series dives deep into the complexities behind warehouse management. It explores new processes and technologies to streamline logistics and production.
Given the role of eCommerce in the world of manufacturing, manufacturers must speed up their time-to-market and distribution to align with high consumer demand.
The New Warehouse features interviews with industry experts where they discuss thought leadership and technological advancements in warehousing, making it ideal for logistics and manufacturing professionals alike.
10. Manufacturing Tomorrow
Host(s): Various

Manufacturing Tomorrow serves as a platform for discussing the latest trends, ranging from emerging technologies to industry best practices.
Each episode features a different host from different industries, providing you with a diverse range of perspectives.
Manufacturing Tomorrow exposes professionals to unique insights and ideas they would not have come across within their own industry vertical.
11. MFG OutLoud
Host(s): Ray Ziganto & Allison DeFord
This down-to-earth and candid podcast series addresses the challenges that sales and marketing teams face within the manufacturing industry. As the younger generation steps in to fill senior roles, the first order of business is aligning sales and marketing.
However, that's not the only challenge. Many manufacturers are falling behind in embracing change, and they are unsure how to keep up with the rapid pace of change.
Manufacturing Outloud provides actionable tips for manufacturers to stand out from the competition. Topics covered in this podcast series include market differentiation, value propositions, and customer relations.
12. Make It Right
Host(s): Kevin Snook
Make It Right is a podcast series that offers practical insight into manufacturing excellence.
Host Kevin Snook addresses how businesses can align their teams and streamline processes to consistently deliver high-quality products and improve profitability.
Most of the topics covered in this podcast cover leadership, process transformation and interdepartmental alignment to break down silos within your business.
It features interviews and analysis of real-life case studies to provide a well-rounded view of achieving operational excellence.
13. Make it British Podcast
Host(s): Kate Hills
This podcast series put the spotlight on British manufacturers and brands by going behind the scenes of their businesses.
Host Kate Hills is on a "one-woman mission" to heighten the UK's reputation as a manufacturing hub.
While many entrepreneurs will be tempted to outsource their manufacturing abroad, this series discusses and shares tips, hints and tricks to help you manufacture within the UK to help support the economy.
14. Manufacturing Talk Radio
Host(s): Tim Grady & Lew Weiss

This weekly podcast series is aimed at manufacturers of all sizes across the globe.
Hosts Tim Grady and Lew Weiss cover breaking news and discuss the latest trends and challenges within the industry, including challenges and technological advancements.
The podcast features highly experienced and knowledgeable guests from a wide range of industries to provide new perspectives, tips and insight.
15. Engineering Reimagined
Host(s): Aurecon
While not centred around manufacturing, Engineering Reimagined explores the future of manufacturing through interviews with engineers and designers.
Engineers and designers have played key roles in designing buildings, planes and cars. On the other hand, the manufacturing industry has played a vital role in making these products widely available.
This podcast is hosted by global engineering consultancy Aurecon and covers innovation, and sustainability while touching upon the evolving landscape of manufacturing.
16. Swarfcast
Host(s): Noah Graff
Swarfcast shares the latest in machine technology while providing compelling stories of manufacturers who are making a mark.
Guests on the podcast range from small businesses to global enterprises.
Host Noah Graff really focuses on the human aspect of manufacturing and zooms in overcoming operational challenges faced by entrepreneurs and industry veterans alike.

17. Great British Manufacturing Podcast
Host(s): MTD and Jefferson
This weekly podcast series celebrates all the positive milestones achieved by the manufacturing sector in Great Britain.
Alongside useful information from guests, the Great British Manufacturing Podcast brings listeners up to speed with what's happening in the industry and shares some useful advice and guidance along the way.
18. Manufacturing Leaders
Host(s): Mark Bracknall
This podcast is aimed at manufacturing professionals who work in management.
Host Mark Bracknell is the founder of Theo James Recruitment and helps individuals secure management positions within the sector. He speaks with highly experienced leaders to gain their knowledge to help new and experienced managers get the best from their teams.
Most of the content is focused on motivating and inspiring, but it also serves as a platform to learn the best practices to overcome the usual day-to-day challenges.
19. The Digital Factory
Host(s): Jon Bruner

The Digital Factory Podcast discusses the impact of digital technology on manufacturing.
Host Jon Bruner helps listeners navigate the complex landscape of digital transformation in the industry.
With input from experts and leaders, this podcast series covers the main talking points around digital transformation. This includes big data, Internet of Things (IoT) and, of course, AI.
20. Let's Talk Supply Chain
Host(s): Sarah Barnes-Humphrey
This podcast explores the dynamic world of the supply chain and its significant implications for manufacturing.
Let's Talk Supply Chain covers everything about supply chain, from logistics to procurement. It features interviews with industry experts who offer proven strategies and insights that can streamline modern manufacturing operations.
It's a must-listen for those involved in the supply chain.
21. The Process Excellence Revolution
Host(s): Ben Linders
The main objective of all manufacturing is to maximise output and make best use of resources.
The Process Excellence Revolution goes deep into methodologies like Lean, Business Process Reengineer and Six Sigma to make your manufacturing processes run smoothly.
But more importantly, this podcast is all about improving how your business can create and deliver value to your customers.
You've Made It, Now Spread The Word
Producing an amazing product that you're passionate about is one aspect of manufacturing. However, getting your product to consumers is a more challenging aspect.
With Make and Market, we provide practical advice on how to leverage content marketing to drive new leads and revenue and raise awareness of your brand.
In each episode, we speak with leading experts who share actionable insights to take your business to the next level.
It's a must-listen podcast series for anyone who works as a manufacturing marketer. Listen to our first episode today.