Content Creation
As we mentioned previously, the main focus of your SEO should always be content. Creating high quality, readable, and informative content not only encourages site visits and helps to provide a good user experience, but it's also the main ranking factor that Google uses to index your site.
To produce SEO-approved content, you need to consider your audience, your keywords, your brand, and the way that your site will be seen by the search engines. There is a fine line between content that is good for SEO and content that is bad for SEO, and we've outlined some of the factors to consider when optimising your website here.
Using your Keywords
When crafting content, make sure to use the keywords you identified earlier to signal that the page is about your chosen keyword, phrase or subject. However, it's very easy to go overboard! In the early days of SEO, using as many keywords as possible on a single page helped to gain rankings quickly and easily, but after the Panda update of 2011, those tactics just won't fly anymore. Panda signalled a huge shift in how people thought about SEO, and cracked down on some serious content issues across the web.
Your keywords are there to inform your content and to signal what it's about, but they shouldn't be used as a crutch, or as a way to 'cheat' your way to the top in Google. Sure, you can include your chosen keyword in every sentence, but this isn't written with your readership in mind. More helpful is to think about your keyword density. This allows you to measure the percentage of keywords in comparison to the amount of text on the page, showing you whether you have used enough keywords to inform the text without screaming "SPAM" at the search engines. Lots of SEO specialists recommend 1-3% density, but it's important to stress that density should not be your focus. Your content should be readable and natural, and keyword density should be something that you use to check whether you have gone too far. If you've written a great piece, check it over and find it has a density of 25%, unfortunately, it's not as great as you may think!
Top Tip! Never underestimate the power of a good synonym. Google's advances in machine learning have made it possible for keyword variations, synonyms and related terms to be picked up in addition to your main term. Trying to rank for 'Student Accommodation Manchester'? You can use phrases like 'University Housing Manchester' and they'll still contribute to your main keyword. Try Googling it - see the results for yourself!
Interested in learning more? Check out our blog about the ways bad content can impact your business!
Duplicate Content
Some estimates claim that 29% of content online is duplicated, a surprising figure that needs to be massively reduced. This is referring to stolen content, where sites have copied and pasted from another. Tweaking the content slightly doesn't get you out of trouble either - Google's algorithms are smarter than you think, and will pick up that small changes have been made to copied text! Your website content should be optimised, natural and original. Duplicated content from another website can cause you issues in the search engines, issues with your customer base, and even legal issues, so steer clear.
Duplicate content issues don't just revolve around swathes of stolen content - they can happen accidentally on your website too. Your CMS can throw up multiple versions of the same page, or incorrect redirects can show two varieties of each page also. These issues can seem tricky to resolve, particularly if URLs on your site are different according to session ID, search, or other parameters. Ensure that all of your redirects are correctly in place, and when possible add a canonical tag to ensure that duplicate pages are not being crawled. A canonical tag looks like this:
<link rel="canonical"" href="https://www.example.com" />
These tags show Google the main version of the page, and instruct it to be prioritised above the others. It doesn't mean that the pages will not be crawled, but it does mean that they will be seen as inadvertent duplicates of the original.
Will I be penalised?
Google does not penalise duplicate content. At least, not in the way that other SEO blunders are penalised. However, Google does have to decide which piece of content is the original, or most important, and you may face a slide in rankings due to this. When faced with two pages that are exactly the same, Google will inevitably rank one above the other. This means that while Google won't penalise the content, you will not rank as highly as you would with original content, and rather than your content working with your overall strategy, it's working against it.
Thin Content
Thin content can cause your site to slip in the rankings easily, and contributes to your overall site quality. If you have pages with little-to-no content, or pages targeting different variations of the same keyword, this can be considered 'thin'. If you have multiple pages with thin content it will lower the quality of the entire website.
Search Console and various SEO plugins such as Yoast offer suggestions, and will let you know when a page has thin content. However, these suggestions are not always accurate and are often decided by an algorithm, so they shouldn't always be trusted! Thin content examples can include gallery pages and content pages, which may not offer a lot of value to Google, but are valuable to site visitors.
To prevent thin content, you can ensure that all main pages of your site contain high quality, original content that is optimised for search engines. Make sure that there aren't pages targeting the same, or a slight variation on keywords, and you can potentially place a noindex on necessary pages with little to no content so that they aren't indexed by Google. This means that your site visitors will still be able to access them, but you don't have to worry about it affecting your ranking. However, just because a page doesn't have a lot of text, doesn't mean it can't help you rank at all. You can utilise your images for SEO purposes with alt tags.
Alt Tags
An alt tag, or alt attribute, is a piece of HTML code that applies descriptive text to your images. These tags are important, and not just for SEO purposes. Alt tags enable you to describe exactly what is in the image you are presenting, which makes it more accessible for screen readers and browsers that struggle with images. This means that even without the image itself, readers can still get a clear impression of what is being presented. In SEO terms, this is a great opportunity to show search engines that you are providing relevant content by tagging appropriately.
It can be tempting to tag our images with lots of keywords, but this still counts as keyword stuffing, and is not recommended for your SEO strategy. When adding alt tags, you should ensure that your tags are helpful, relevant, and not overly descriptive, so that they are easy to access and read. Here's an example of how to tag, and how not to tag!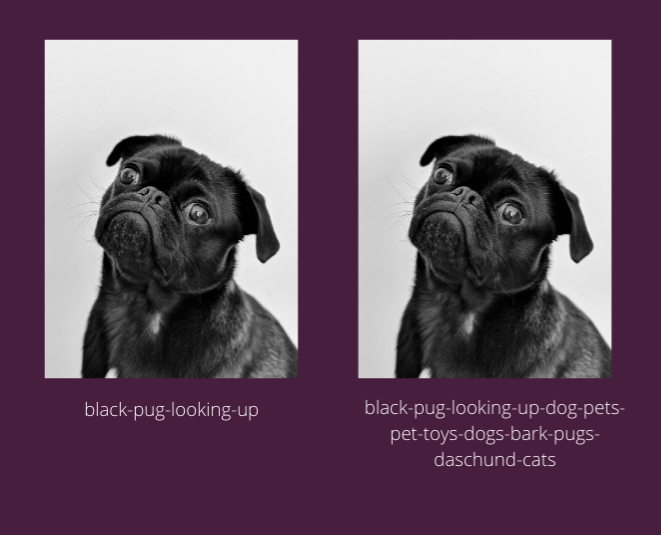 You can add alt tags to any image that you place on your site, including logos, infographics, animations and captchas. However, it may not be worth adding alt tags to every image, as decorative images do not add any ranking clout, nor do they add anything to the site visitor's experience. If you have a banner image that is purely for design and doesn't show a product, service, or your team, there's not much point in tagging it.
Top Tip! If you already have a caption under your images, you can use the tag 'alt="" (null)', to avoid repetition. The caption will already describe what is in the image, so there's no need to add a tag to explain again.
Metadata
Your metadata signposts your page to the search engines, adding information to tell them exactly what it's about. The meta title is vital for your website's first impression, as it appears in the search results, and when your page is linked somewhere else as a preview. It also appears in the tab on most browsers, so it's essential to make sure that this describes the page effectively.
When you're crafting title tags, consider:
What your keywords are for the page. These should be included at the beginning of the title tag, so that they are prioritised by the search engines.
What the page is about. Your title should describe what the visitor is going to see when they click on your page, so that no one is surprised when they land on your content.
The length of your title tag. You can run it through this checker to make sure that your title and description are visible in search results.
Your brand. You should try to include your company name so that your pages are recognisable, and follow guidelines for naming pages.
Your metadata also includes your meta description. This is a short piece of content that appears in search engines, describing the content that is on the page. In the search results, it looks like this: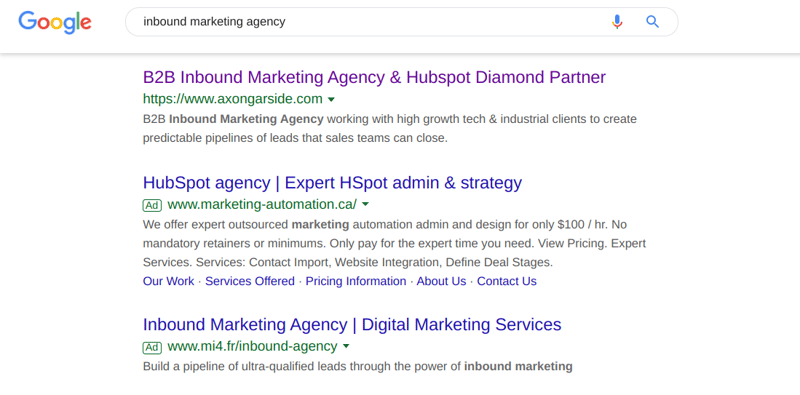 The meta description is a good opportunity to summarise your content, include your keyword, and attract readers to your content. It should be under 155 characters, punchy, and entice searchers to click your link, instead of someone else's.
There are also keyword meta tags, which once upon a time were used to tag as many keywords as possible to boost SEO. They're now used less and less, and no good SEO specialist is going to recommend wasting time on these. If they're already on your site, they won't hurt, but don't bother adding them where they aren't needed.