Top tools for improving your B2B website's conversion rate in 2021
Need tools to help you start optimising your B2B website's conversion rate? Look no further! Here are some of our favourite CRO tools.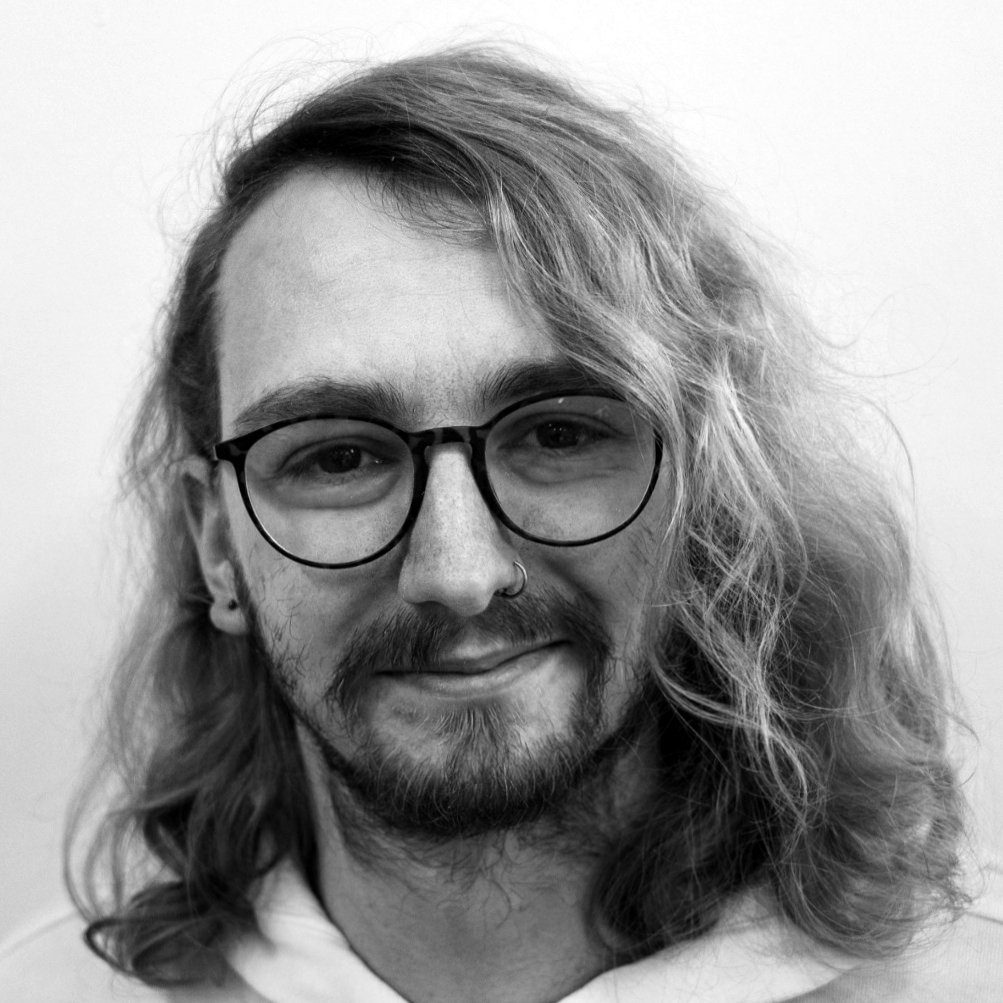 Will Marsland
Published: 30 Mar 2021
5 minutes read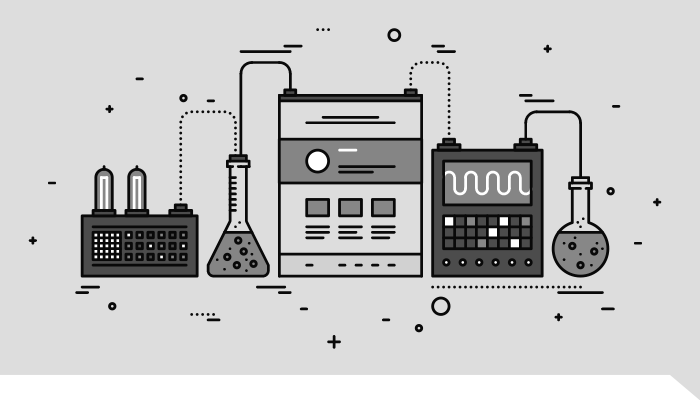 So, you're interested in working to improve the conversion rate on your website - great!
But to ensure your site continues to be optimised as best as possible for conversion rate, you need the right tools.
There are a lot of different tools available that can aid in different areas of CRO, so you shouldn't just stick to one. Ultimately, it's best to use a combination of tools to produce the best result. So we've listed some of the top tools you can use to help improve your website's conversion rate in 2021, including the tools that we personally think is great.
HubSpot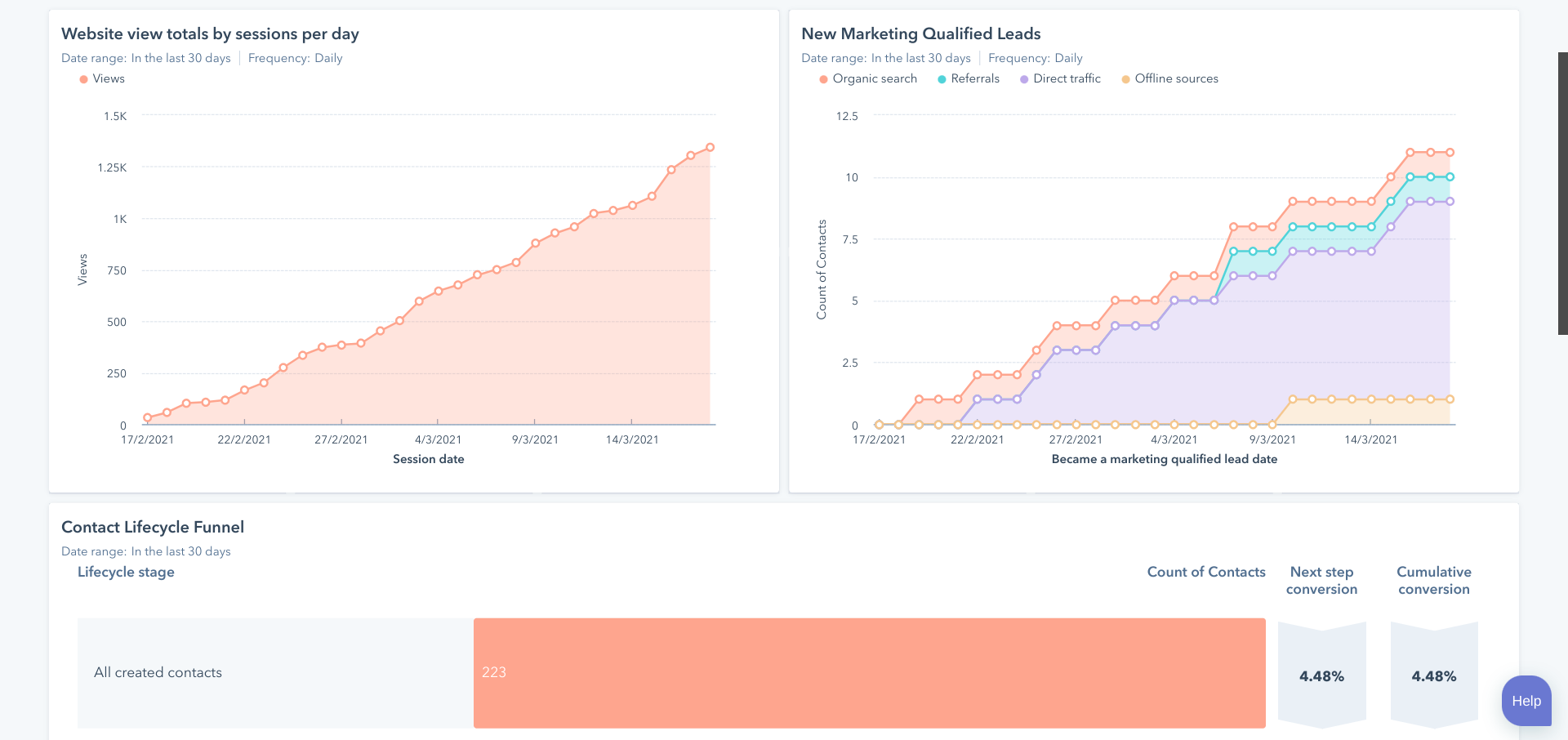 Of course, we couldn't write a list like this without talking about HubSpot - after all, at Axon Garside we do use HubSpot on a day-to-day basis! And that's because HubSpot is a great tool for managing websites, including optimising and monitoring overall conversion rates.
HubSpot's detailed analytics tools allow you to analyse various stats across your website including CTA rates, submission rates, new contact rates, and more. You can view both high-level custom reports for quick overviews, as well as more detailed, granular figures, allowing you to really pinpoint what's working and what's not down to a very minute level. This means you can really start quickly fine-tuning your website pages and be constantly adapting and optimising your pages, CTAs, format, etc.
The CRM also has a built-in A/B testing tool, making carrying out A/B tests on HubSpot pages and monitoring the results easy and efficient. So there's no excuse not to be rolling out experiments all the time!
If you're not ready to take to full plunge, HubSpot has a few different pricing tiers and packages, so you don't have to make a big investment to see if HubSpot is right for your business, you can simply get the features you need. You can even try it out for free here.
What we like about this tool: The sheer level of detail combined with accessibility.
Google analytics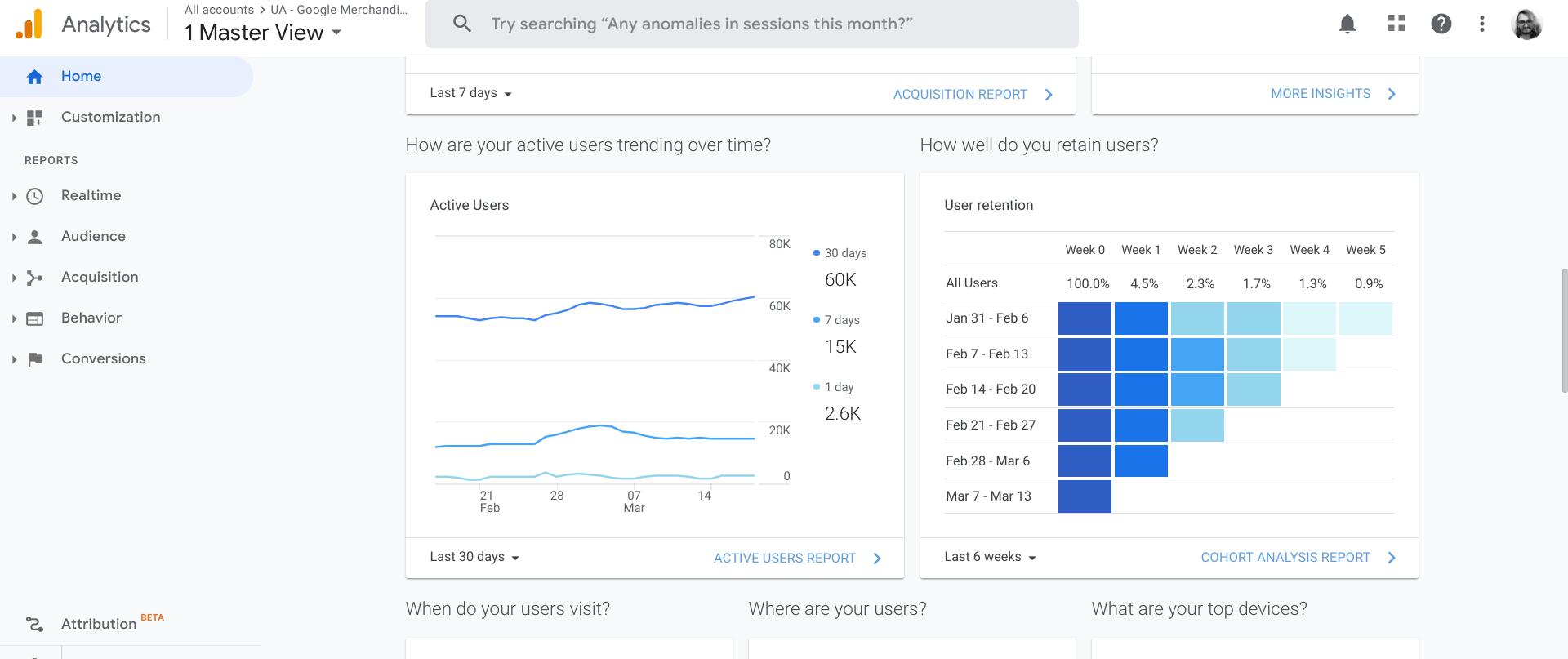 Outside of HubSpot, Google Analytics is perhaps the best tool to monitor overall site performance. Like HubSpot's analytics tools, this tool allows you to see a detailed view of site performance, statistics, and trends - plus it's free, which is a pretty good incentive to try it out.
For CRO, Google Analytics can be used to see which pages are performing best, what type of traffic they're getting, where it's coming from, and whether visitors are leaving your pages or clicking through to other pages etc.
Though we personally find Google Analytics to be not quite as accurate, customisable, or accessible as HubSpot, it's still a great option if you want a free tool to monitor your site traffic and page performance.
What we like about this tool: Free and easy to get started.
Hotjar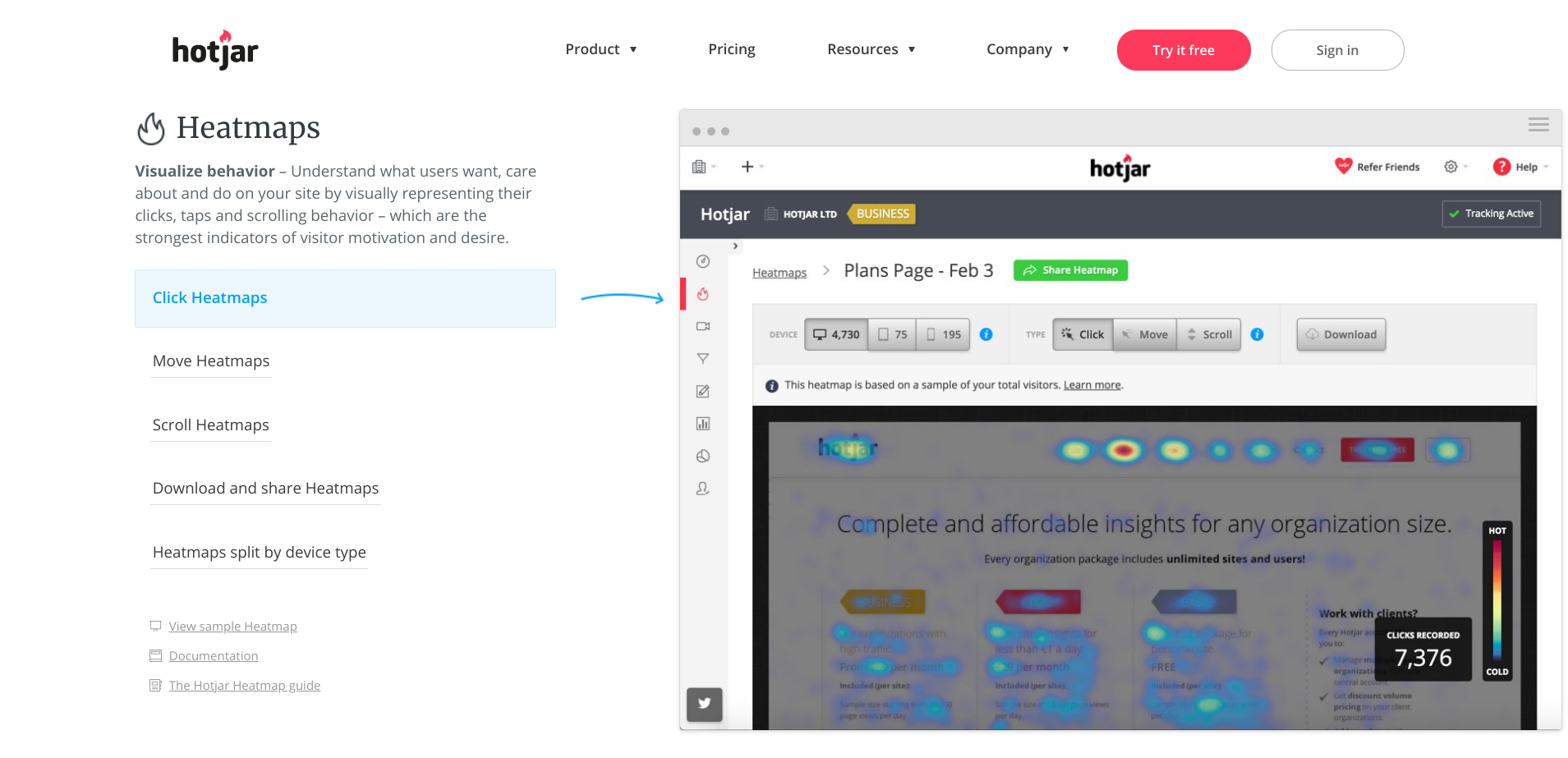 We believe that one of the most important steps in CRO is putting yourself in your website users' shoes. To really start optimising your site, you need to take a step back and look at it like your users do. This, of course, starts with having a really good knowledge of your buyer personas, but that can only get you so far. Hotjar allows you to literally see how your site visitors are actually using your site.
Hotjar is a heat-mapping tool, which essentially allows you to create visual heatmaps of how people interact with your site, including how they move their cursor, where people are clicking the most, and how far down the page they're scrolling.
This allows you to analyse patterns that indicate what's working on your site, and where people are getting lost or confused and dropping off, which is brilliant for page optimisation.
Hotjar has a free version that allows you to analyse up to 3 pages on your site, collecting a limited amount of data, so it's well worth trying out for yourself. It's simple and easy to use, but at the same time provides invaluable data for conversion rate optimisation. We love Hotjar at Axon Garside, we're using it all the time!
What we like about this tool: Easy to use and provides continuous, actionable data.
Surveymonkey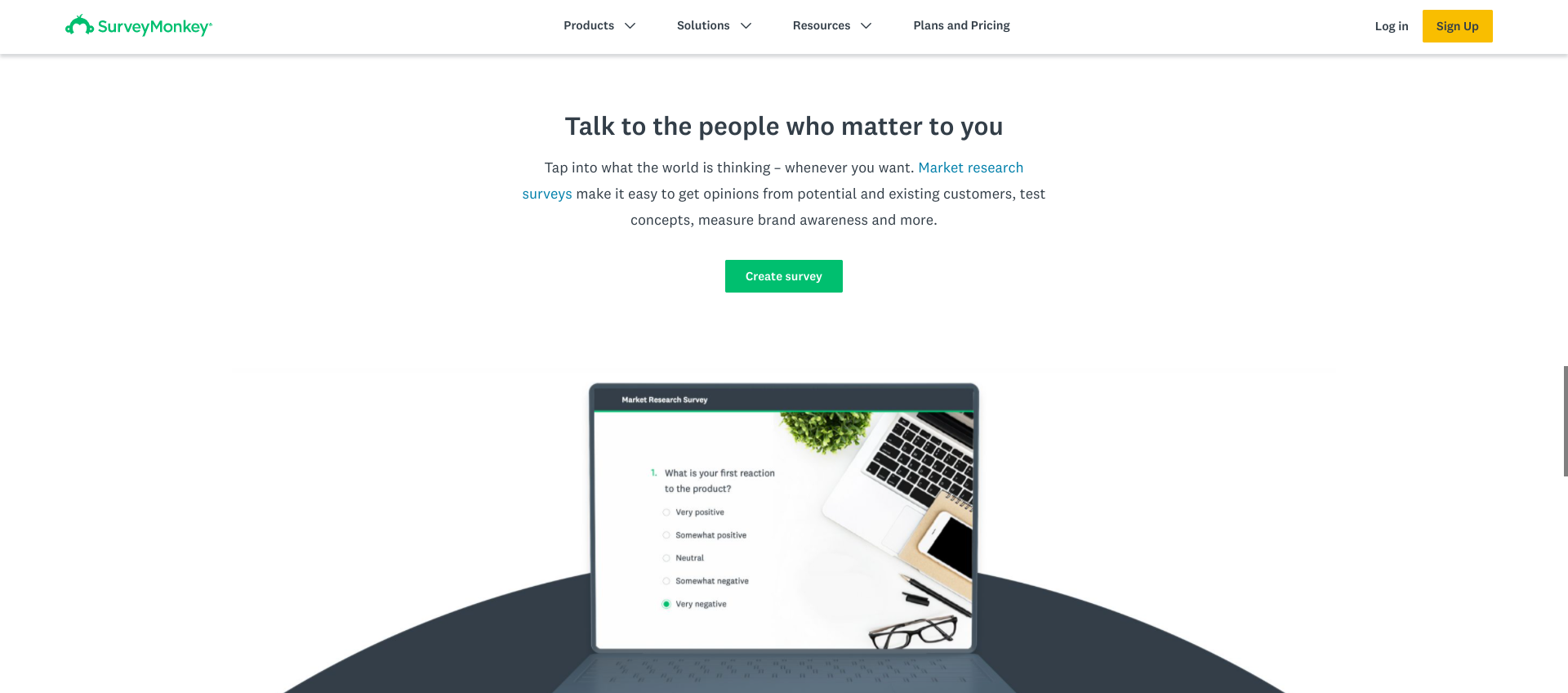 Another important aspect of conversion rate optimisation is utilising and leveraging valuable data. Valuable data gathering is often one of the more difficult elements of CRO, but, fortunately, tools such as SurveyMonkey help with this.
SurveyMonkey is, you guessed it, a piece of survey software that allows you to more effectively create and send surveys, quizzes and polls to gather useful business insights. This can be very useful for gathering first-hand information about how users think of (and use) your website and service, which in turn can reinforce your CRO efforts. Leveraging the data gathered using tools such as SurveyMonkey allows you to create more tailored content based on real insights and feedback.
Like many other tools on this list, SurveyMonkey offers a number of different packages to suit your needs.
What we like about this tool: Allows for gathering valuable first-hand user data easily and efficiently.
Unbounce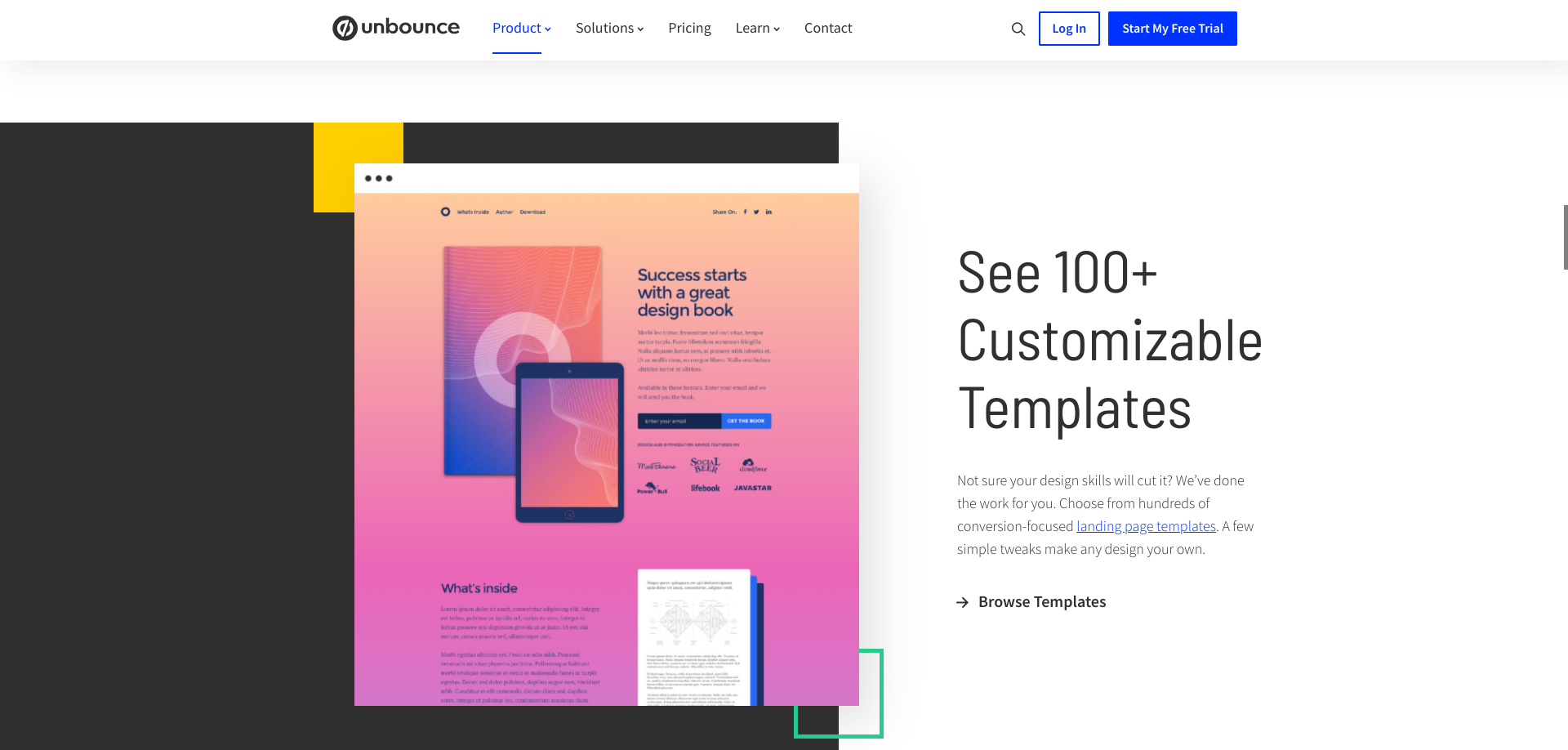 One of your website's most important assets in converting traffic is your landing pages. So naturally, you'll want these pages to be as effective as possible. That's where tools such as Unbounce come in.
Unbounce is a detailed and intuitive landing page creation platform that allows you to easily create and implement effective, appealing, modern-looking landing pages using current best practices to help your website start converting more traffic. Like HubSpot, Unbounce offers a smorgasbord of templates that come pre-built and ready for you to use and customise as you need for your brand, meaning you don't have to start from scratch if you don't want.
Unbounce also offers other functionalities such as the ability to create pop-ups and sticky bars, custom script functionality, and integrations with various platforms including HubSpot and Wordpress.
In addition to a variety of pricing packages, Unbounce offers a free 14-day trial, which is a great incentive to give it a try and start creating effective landing pages for your website that convert traffic.
What we like about this tool: No coding experience required, easy to make great modern-looking landing pages
Google Optimize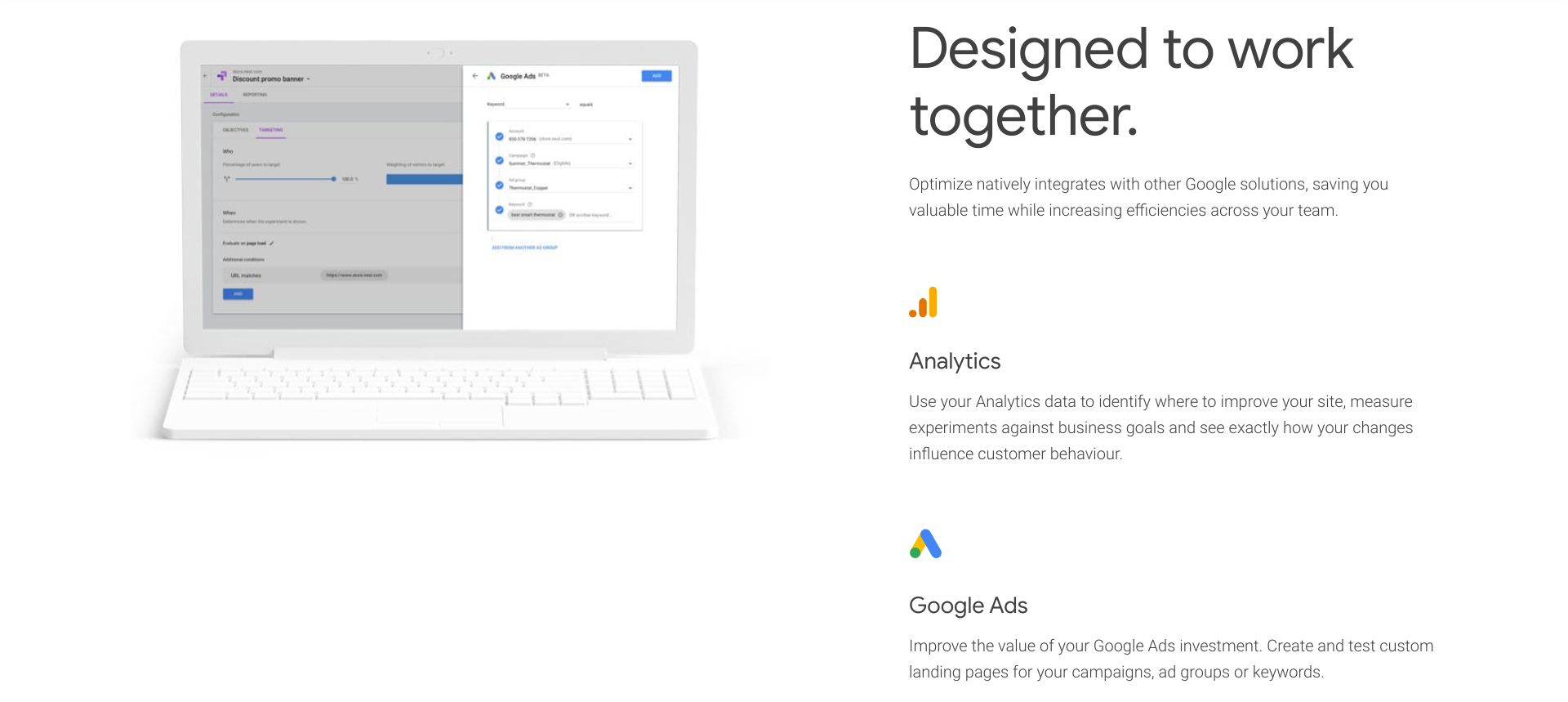 If you don't have HubSpot but want to conduct A/B tests, there are other options available. One of the most popular of these options is Google Optimize.
Google Optimize is a website optimisation tool that allows you to carry out A/B tests across your website and analyse the results. The tool also allows you to conduct other CRO related activities such as creating optimised landing pages, making it a well rounded tool for general website optimisation.
Like Google Analytics, Google Optimize is free, which make it great for people just starting to dip their toes in, though they also offer paid versions with more advanced features.
Interested in rolling out some quick and effective A/B tests on your website? Check out our blog on the key A/B tests you should use in 2021.
What we like about this tool: Pairs well with Google Analytics, and is similarly free and easy get started with.
Find the right set of tools for your business
Well, there you have it!
There are simply so many tools available that provide useful insights for conversion rate optimisation and will make any CROs life so much easier, but we only listed our favourites.
Ideally, you should look to try out as many tools as possible and get a feel for what works best for your business. Don't be afraid to utilise multiple tools, in fact, we actively encourage it. Many of these tools provide their own unique value that the others might not, and many of them work very well when used together. For example, we're always using HubSpot, Hotjar, and Google Analytics in tandem on a daily basis to a well-rounded overview of our sites' conversion rates.
Try some of these out and find what works for you! Happy optimising!