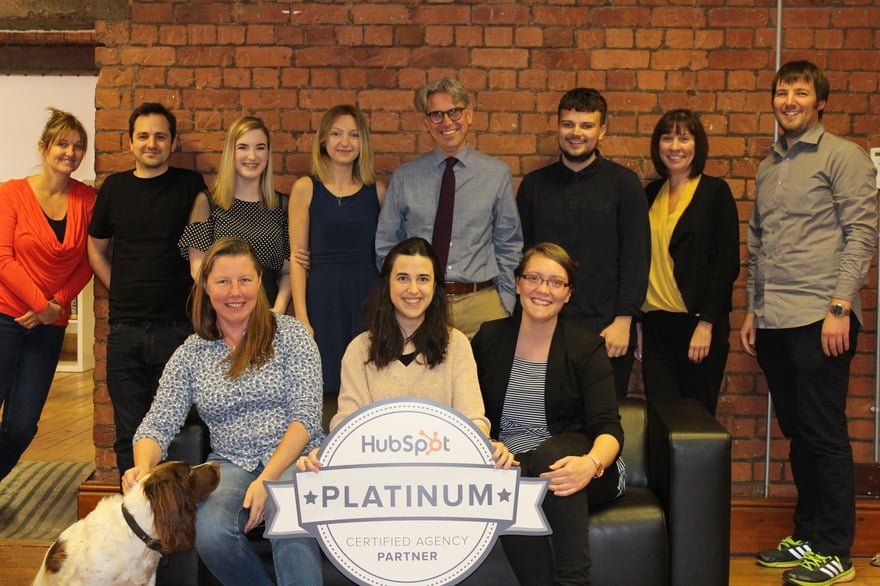 Axon Garside has been awarded HubSpot Platinum partner status in recognition of supporting industrial businesses across Greater Manchester during digital boom.
Greater Manchester has one of Europe's largest city economies, worth £56bn. More than 100,000 people are employed in its technology sector, with 6,000 technology-related businesses having set up shop across the county. It certainly seems that Manchester is well on its way to achieving its goal of becoming one of the world's top 20 digital cities by 2020.
However, Manchester was built by worker bees. The heritage of the city lies within the cotton mills, which are now, ironically, inhabited by a plethora of technology-related businesses.
Manchester began expanding at an astonishing rate around the turn of the 19th century as part of a process of unplanned urbanisation brought on by a boom in textile manufacture during the Industrial Revolution. The transformation took little more than a century.
With Manchester's new-found success in digital, it seems that the very roots of the city are becoming forgotten, and even consumed, by the tech-boom.
Axon Garside combine the best bits of digital marketing and technology to help the unknown industrial businesses that still reside in the county to become well-regarded in their respective sectors.
With the uptake of sophisticated digital marketing being only 2% across the industrial/manufacturing sector, it is important that traditional businesses realise the importance of digital marketing as a fundamental part of their business strategy. Also, as 12% of software and internet companies are already doing intelligent marketing, it truly is a case of 'adapt or die'.
This is why we are pleased to announce that Axon Garside have been awarded HubSpot platinum partner status in recognition of our commitment to delivering industrial businesses with marketing strategies that deliver a measurable ROI.
We are now recognised as Greater Manchester's top B2B digital marketing agency specialising in sales lead generation through inbound marketing and HubSpot.
The first Manchester-headquartered HubSpot Platinum Partner
After 3 years of wholly focusing on implementing HubSpot, providing expert HubSpot support, and delivering companies across industrial sectors sales-ready leads through inbound marketing campaigns, Axon Garside have become the first Manchester HubSpot Platinum Partner.
This certification makes Axon Garside one of only 12 HubSpot Platinum Partners in the UK, out of a group of 54 tiered agencies.
A credit to our service
The Partner Tier program is designed to acknowledge those Agency Partners who have not only brought the inbound message to the most clients, but also those who executed inbound marketing services to the highest standards.
"Axon Garside have recently become a HubSpot platinum partner due to their continued ability to deliver consistent value to their clients.

By value, they clearly show their clients how many new customers they can generate for them. Axon Garside's team of professionals, combined with world leading technology, makes them forerunners of marketing techniques in this ever changing field" - Diarmuid Walsh, HubSpot.
By using HubSpot to attract relevant website visitors, convert them into leads and nurture those leads until they're ready to buy, Axon Garside has consistently met and and exceeded agreed targets, and in turn, helped our clients grow their businesses by providing them with a predictable source of revenue.
We couldn't be happier - just ask our Director, Ian Guiver:
"As 1 of 12 platinum HubSpot partners in the UK and first agency in Manchester, our newly tiered status is a testament to our team's hard work and is further proof of our inbound marketing success. It also confirms that our move to Manchester's creative hub was the right decision.

"Our strength is our ability to guide clients in making what are often the big changes that are necessary to realise the opportunities of the digital economy. This is a really important milestone for the agency."
If your business is interested in inbound marketing and you'd like to know more about working with a HubSpot certified partner, why not contact us today or download An introduction to B2B inbound marketing to get started?