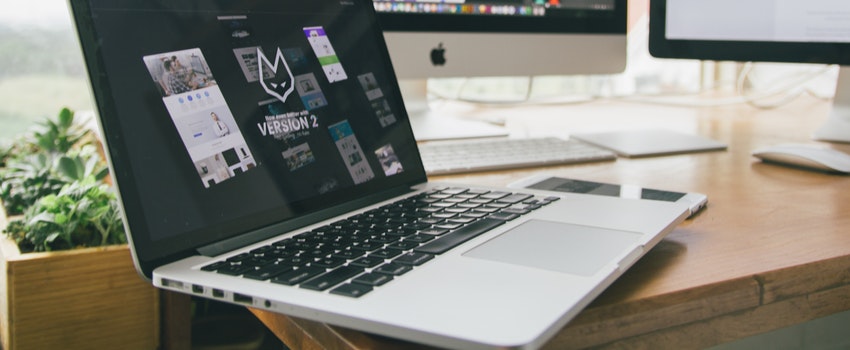 Often, during a B2B website redesign, the blog design tends to fall by the wayside, but it's actually one of the most important aspects of your website that people will visit. That's why we've put together a list of the best B2B blog design examples to give you some inspiration for when you decide to give your website a refresh:
Companies that published 16+ blogs a month see almost 4x more traffic than companies who only published 0-4 a month. Clearly, keeping on top of your B2B blog is a top priority if you want to be attracting new visitors and nurturing them into leads. However, it's not just about churning out content and hoping for the best. Your blog design needs to be able to catch a prospect's eye if you want them to stick around long enough to engage with your content.
1. Plan-Net
Plan-Net's blog is a great first example which includes many different elements to their design that we love. Their design is clear, with readable fonts and digestible structure. You'll also notice that the introduction is slightly larger in font size to draw you into the rest of the content. The social sharing element is fixed on the page as you scroll down the blog, making them accessible to readers at any point and encourages engagement. This example also links to additional reading to keep a user on the site for longer.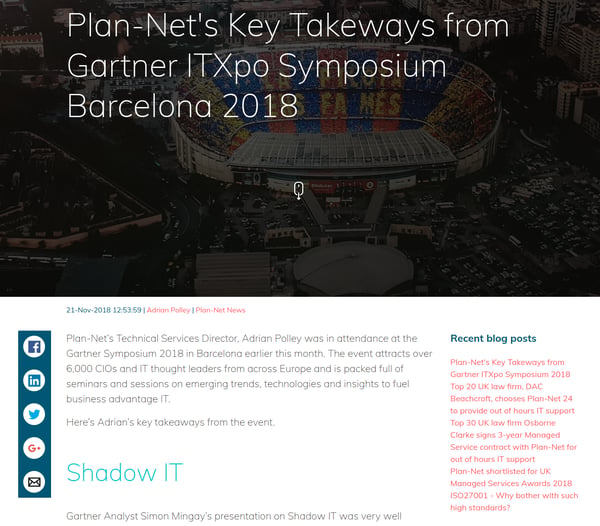 2. HubSpot
HubSpot's blog design is always evolving based on how people engage with content. For instance, you can see at the top that they've included the average time it will take you to read the blog - helping users determine whether they have the time to invest in the content. Additionally, nice touches such as including the author's Twitter handle and fixed social sharing create a sense of encouragement around engagement. One aspect we really like about this example is how the blog begins, by answering the question of the blog with the five top-rated handsets. Answering the question of the blog at the beginning is a handy way to try to gain a Google Snippet. For readers who are time-poor, they now have the information they were looking for and can be on their way. For other readers, they can scroll down to read more information about each handset type.
3. Think with Google
What can we say? Think with Google's blog is clean, readable and utilises lots of white space. What we love about this blog design is that it's fuss-free and fits with Google's branding and only gives you the information you need.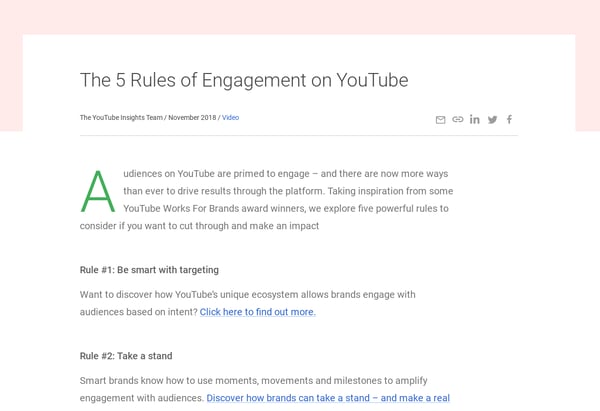 4. Canva
Canva is a handy free tool to use if you want to create anything from logos to social media images and presentations using a range of templates, stock imagery and more. When it comes to their blog, Canva certainly keeps their colourful, whimsical branding on point, but one really cool aspect to their blogs is that they include embed codes for images they use so that you can then share it on your own website.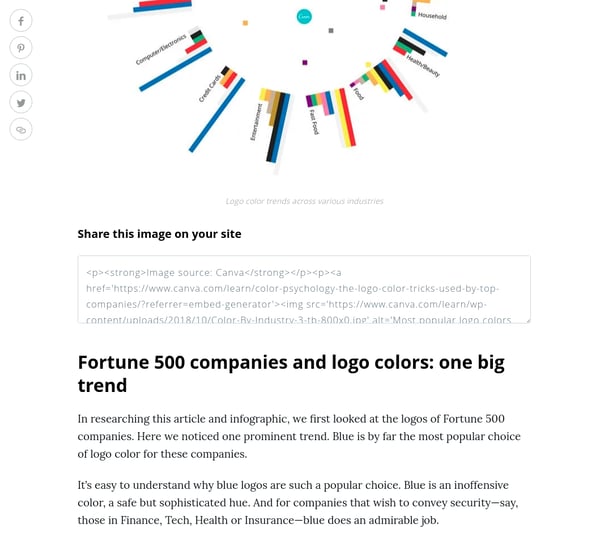 5. Vistair
In this example, we take a look at Vistair's blog overview page. What's really nice about their design is the interesting way they've displayed their topic filter - with a little plane that you can use to navigate to the different topics. Additionally, the blogs themselves are neatly displayed with eye-catching featured images to draw you into clicking.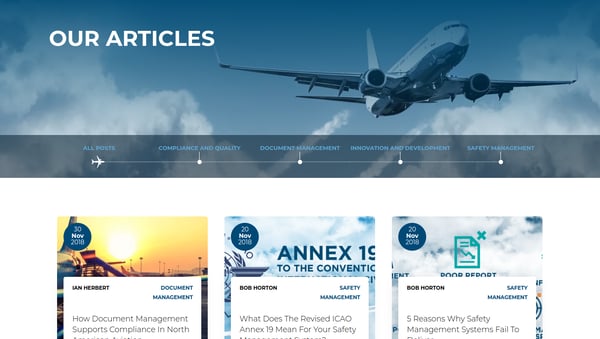 6. Moz
What we love about Moz's blog overview page is the great use of white space and the ability to filter the blogs according to numerous categories. One other element is adding in the "like" and "comment" buttons so that you get an idea of the popularity of the topics being discussed in the blogs, but which also prompt you to want to contribute to the engagement.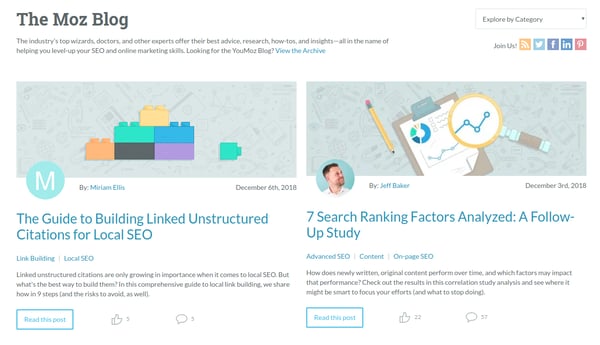 7. Optimizely
Optimizely's blog design includes a fixed recommendations section which appears to follow you down the page and also promoting their latest offer (in this case, the webinar). In addition to this, they've also included the author's bio, whereas you would usually just see a name and would need to click to learn more about them. This gives the blog a nice, personal feel but you also get a sense of credibility about the author and their industry expertise.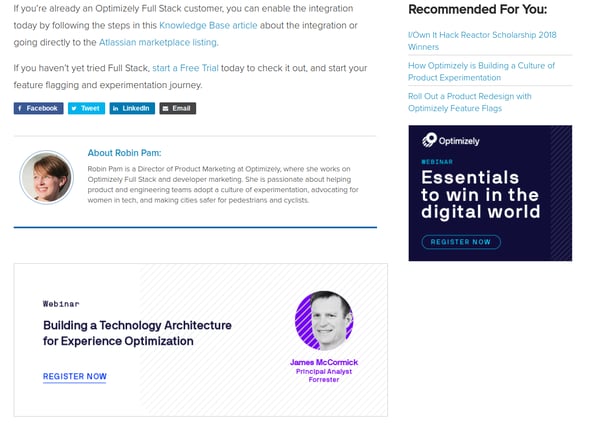 8. Econsultancy
Econsultancy's blog uses striking design in-keeping with their branding and cleverly uses the the colour red in this example to highlight important elements within the blog. For instance, the social sharing buttons, the newsletter subscription, hyperlinks and pull-out quotes all stand out.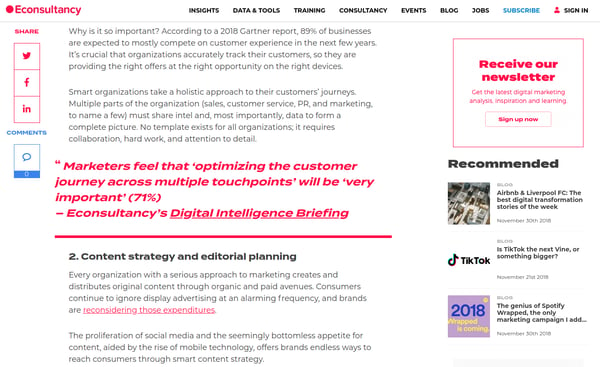 We hope our blog has given you some good tips to keep in mind for your own. Do you have anymore B2B blog design examples to add to our list? Let us know in the comments!
Want to start creating blog posts to boost engagement, target the right audience and provide valuable content? Download our free B2B blog template below to get started on your blogging strategy!