Maintaining an effective website
In order to ensure your website stays effective long after it has gone live, you need to make sure you are tracking it properly. Besides tracking the number of leads and customers, here are some examples of other metrics you should be tracking:
This is the number that allows you to analyse your efforts properly. However, don't make the mistake of viewing this as your most important website metric, as it is mostly a reflection of your off-site marketing efforts as opposed to the website itself.
Bounce rate is the percentage of people who left your website after viewing a particular page and a high bounce rate indicates a poorly performing page. You should always be comparing your high bounce pages to your low bounce pages because it will allow you to see what aspects of your website are engaging visitors and which aren't.
This is the percentage of people who completed a desired action on a page, such as filling out a form - and pages with a high conversion rate are performing well. You should compare this again with your landing pages so you can see if the traffic coming to your website is generating revenue.
These will show you what people are searching for when they find your site in a search engine. Analysing this data allows you to see how well your chosen keywords are performing, as well as letting you know if there are other terms you should start trying to rank for.
You should use these metrics to make reporting a main component of your website maintenance. Regular reporting will allow you to see how well your website is performing and answer any complex questions you have about the data you have gathered.
You can do this through Google Analytics, however we recommend that you have a full reporting system, because you will be able to create deeply customisable reports that can be shared throughout your business.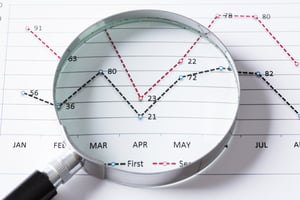 As the digital world is constantly evolving, it's important that you take an agile approach to website maintenance. GDD is the most efficient and productive way of maintaining a website because it uses prospects' data in order to make continuous improvements to your site. However, in order to do GDD effectively, you need a powerful and reliable CMS.
Redesigning your website on HubSpot's CMS means you gain an all-in-one solution that gives your website visitors exactly what they are asking for when they need it. A dedicated HubSpot partner can help you get your new website up and running in no time at all.