Implementing a new CRM that gets results isn't an easy task. But with the right know-how, it's not impossible.
A lot is made about poor user adoption being a major contributing factor to the failure of many CRM projects but I don't believe that paints the whole picture. Poor user adoption should be considered a symptom of a failing CRM project. The predominant issue is that - due to a less than thorough implementation - you're left with a tool that takes more than it gives.
Undoubtedly, this is not what you were promised when procuring your CRM. So naturally, poor user adoption follows as your team loses patience with something that should make their lives easier.
In this guide,
The 5 Stages of a Successful HubSpot CRM Implementation
, you'll learn everything you need to know about how to carry out a successful HubSpot CRM implementation from start to finish. Setting up your CRM correctly at the start helps ensure that you have a tool that supports - rather than hinders - your business objectives.
Through this comprehensive guide, we'll help you:
Implement a powerful tool and develop processes that help you deliver revenue growth.
Overcome the causes of poor user adoption.
Understand the importance of data on your company and process.
Reaffirm the need to consider clients, people, process, and technology & data in each stage of the implementation.
Fundamentally, have a CRM tool that gives back significantly more than it takes.
Want to see what our guide can teach you? Fill out the form below and download your free copy now.
TAKE A SNEAK PEEK INTO THIS EBOOK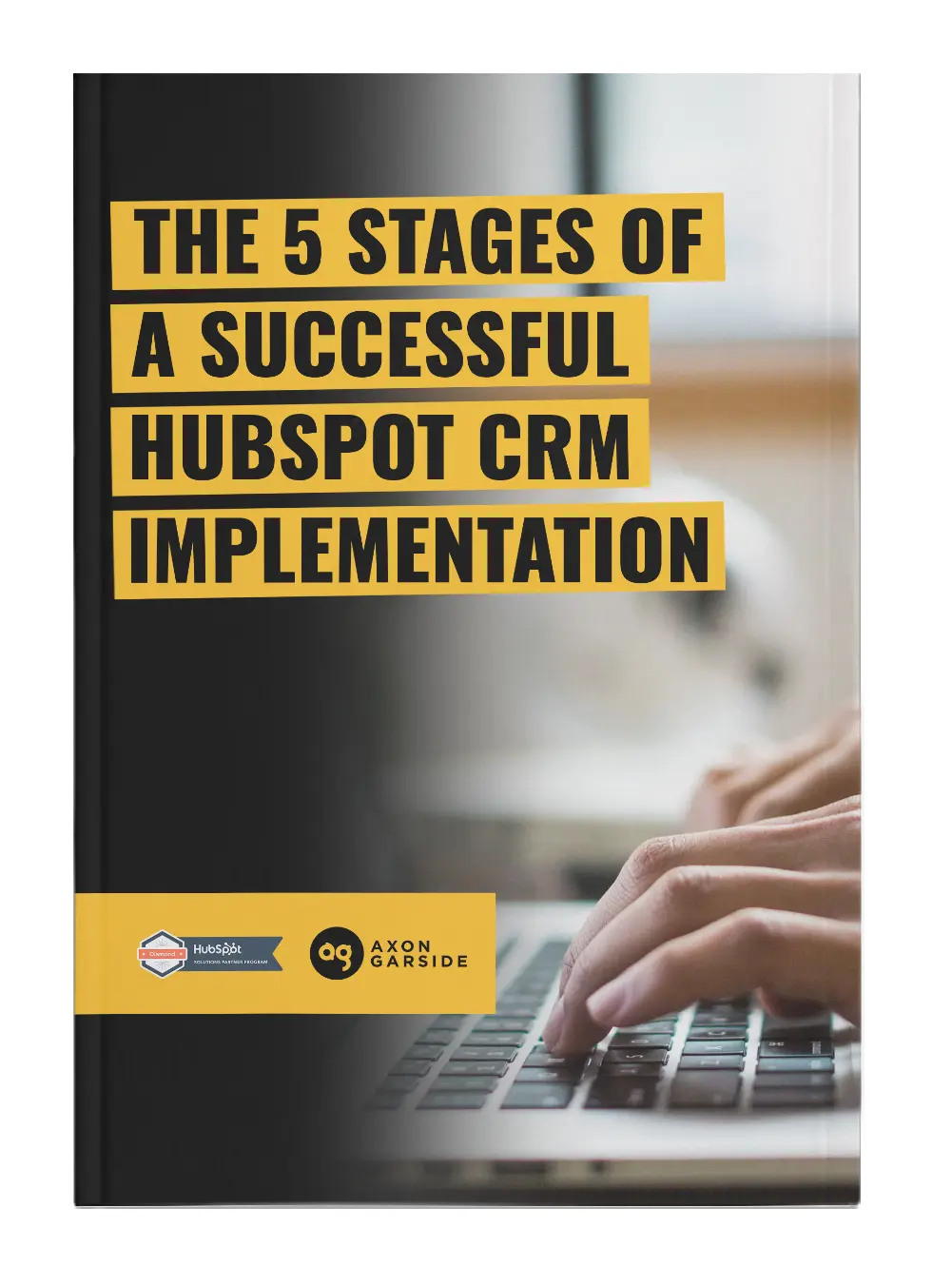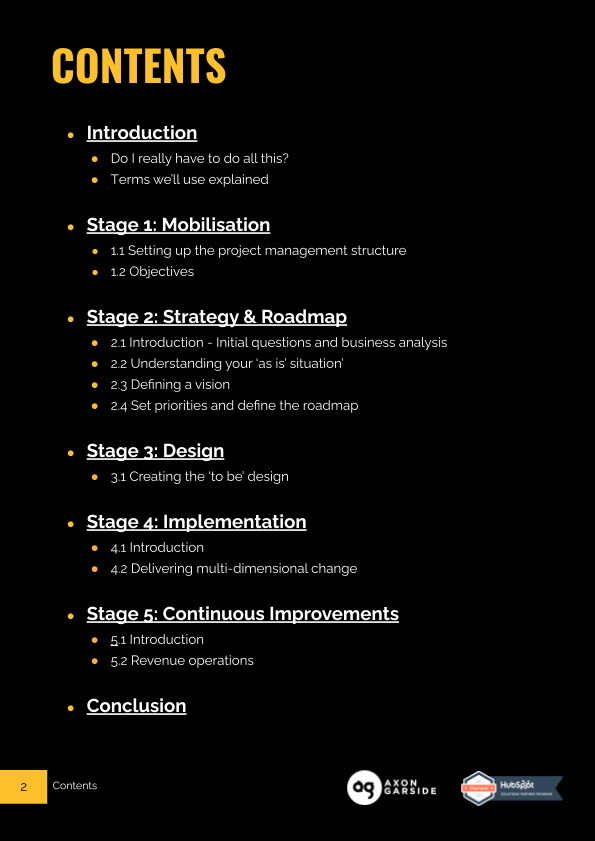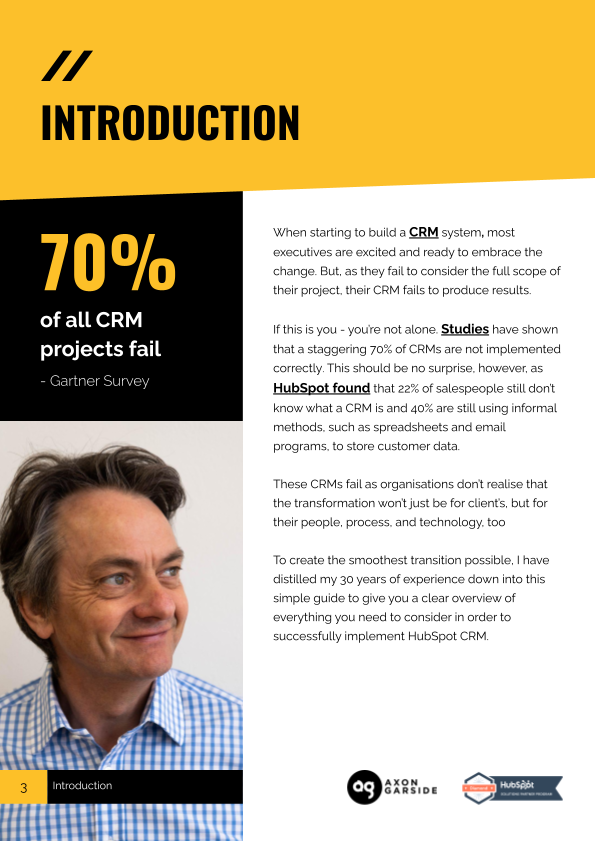 About the Author
Andrew Shaw
Andrew Shaw is the director of CRM Consulting & Services at Axon Garside. With over 30 years of industry experience, he leads the way for a brighter, technologically advanced future.

In previous roles, Andrew has worked both as a consultant and a Sales & Marketing leader in businesses, such as DHL, Capgemini, Compass Group, Exova and more to provide unique, growth driven CRM's. His work has helped clients to retain more customers, win more business, grow share, and grow their annual revenue as a result.

Also, as a client of Axon Garside in his previous roles, he has hands-on experience on the benefits of HubSpot. Using his 3 decades of experience, he's spearheading the new CRM hub and helping clients to create a strategy for success.
"We have been on Hubspot CRM for about 18 months now and we love it. Each month Axon Garside shows us how we can improve our processes, use more Hubspot functionality and become more productive. "
Ben Marks, Managing Director at YouthSight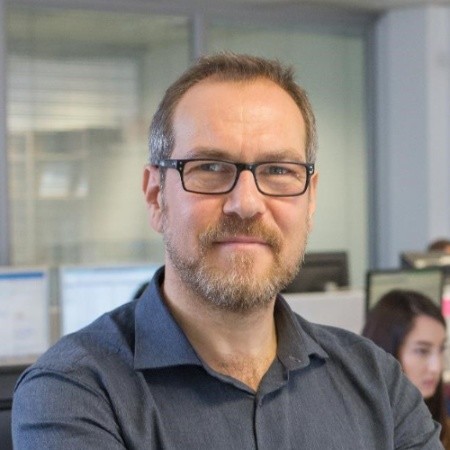 CLOSE X
DOWNLOAD THE IMPLEMENTATION GUIDE